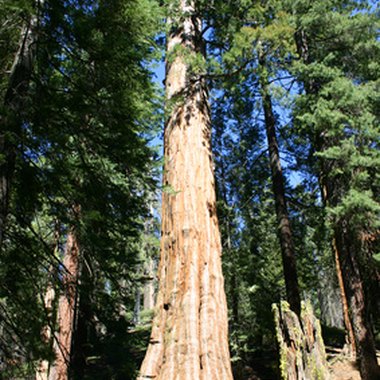 The lodges of Sequoia and Kings Canyon national parks blend into the towering trees, offering an immersive experience for those visiting a land that looks like it was built for giants. Four lodges -- three in Kings Canyon and one in Sequoia -- offer accommodations from rustic to refined. Reservations are recommended during the busy summer months when a majority of visitors arrive.
what is a fallback
John Muir Lodge
Named for a man who once climbed to the top of a fir tree in a violent storm, the lodge attempts to incorporate his experience -- reveling in nature. The John Muir Lodge is the newest addition to Kings Canyon's lodges. The 36-room property is located in Grant Groove Village, a short hike to the General Grant Tree, the second largest tree in the world. The lodge is intimate, with an understated lobby adorned with photographs of Kings Canyon, and rooms with furniture crafted from wood. Each standard room provides simple amenities but offers views into the surrounding forest. The lodge also features common balconies that provide space for relaxing and taking in the solitude. The lobby provides free Wi-Fi access. Grant Groove Village provides a restaurant that serves continental cuisine, a pizza parlor, gift shop, small grocery store, coffee shop and visitors center.
Grant Groove Cabins
The Grant Groove Cabins, situated in Grant Groove Village, are a collection of rustic accommodations. Named for Civil War general and President Ulysses Grant, some of the cabins date back more than a century. Four types of cabins -- duplex, single, camp and tent cabins -- are available. The duplex cabins offer en-suite bathrooms, electricity and propane and are available all year. One single cabin, dubbed the "Honeymoon Cabin," is the most luxurious of all, with a sofa, electricity, mini-fridge and porch. It is available year-round. The camp cabins are the most plentiful, supplied with electricity, propane, picnic table and wood stove, but they share a common bathroom. They are available only from May to November. Tent cabins, available only in the summer months, are rustic, with no electricity and a shared bathhouse. All cabins are within walking distance to Grant Groove Village, where dining, shopping and a visitors center is located.
Cedar Groove Lodge
If you want isolation, Cedar Groove Lodge provides plenty. No television. No Internet. Only nature. The three-story wood lodge looks almost as if it is part of the landscape, located in the core of Kings Canyon, surrounded by evergreen trees and granite mountains. Cedar Groove, open during the summer, provides 18 lodge and three riverside rooms. The lodge rooms have a private bath, phone and air conditioning. The riverside rooms are similar but provide a porch. Cedar Groove provides a good starting point for hikers and horseback riders wanting to explore the backcountry of Kings Canyon. It is recommended that visitors bring food as the lodge only provides simple dining.
Wuksachi Lodge
Located in Sequoia National Park, sister park to Kings Canyon, Wuksachi Lodge is the most refined of the area's lodges. The year-round lodge is set in the western half of the park, along highway 198. The lodge is near all the park's attractions, including Morro Rock, Giant Forest Museum and numerous hiking trials. The lodge provides 102 rooms -- standard, superior and deluxe. Each room features wood furniture adorned with quality linens, television, Internet connection, phone and refrigerator. The centerpiece of the lodge is the restaurant, serving diners while they take in views from panaromic windows. The lodge also provides meeting space.
References
Photo Credits
giant sequoia's image by pixelcarpenter from Fotolia.com