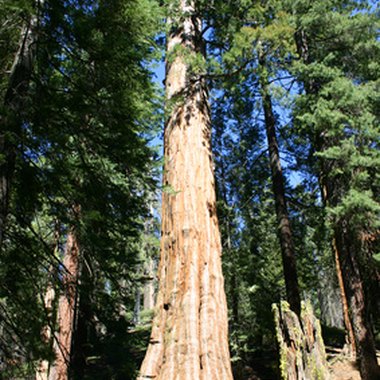 Kings Canyon National Park, which is managed together with the adjacent Sequoia National Park, is one of the prime protected regions in the Sierra Nevada of California. The eponymous gorge is one of the deepest in the world, though the greatest depths lie just outside the park. Earth's biggest trees, giant sequoias, grow in this rugged country. This landscape of high granite peaks, rich conifer forests and plunging defiles give birth to a number of rivers, from the Kings to the Kaweah. Whether you're looking to immerse yourself in geology, hit the hiking trails or try some wintertime skiing, lodging options in the Kings Canyon vicinity are diverse.
what is a fallback
Within the Park
A variety of accommodations are available within Kings Canyon National Park proper. From spring to autumn, visitors stay at 4,500-foot-elevation Cedar Grove Lodge in the park's namesake gorge near the boundary with Giant Sequoia National Monument. Choose from 18 hotel rooms as well as three patio rooms. Natural attractions include the Kings River itself as well as North Dome and Grand Sentinel, two granite monoliths. Thirty-six rooms are available all year at the John Muir Lodge, situated at 6,500 feet at the Grant Grove Village, within easy distance of the famous General Grant sequoia. During the summer months in the same location, the Grant Grove Cabins offer a range of more basic accommodations, from bathroom-equipped cabins to tent housing with shared facilities.
In Sequoia
Your options at neighboring Sequoia National Park include the Wuksachi Lodge, a large, upscale, high-country resort at 6,500 feet, with better than 100 rooms -- categorized as standard, deluxe or superior -- equipped with a variety of amenities. These are available year round. Other attractions of the Wuksachi include a large, well-windowed restaurant, gift shop and special-event space, not to mention proximity to sequoia groves and trails for hiking and cross-country skiing. Also available in the summer months is the Bearpaw High Sierra Camp, a "tent hotel" off the High Sierra Trail.
Nearby Accommodations
The National Park Service lists dozens of other lodging opportunities within 20 miles of the two main entrances to Sequoia-Kings Canyon National Park. They include well-developed vacation spots like Montecito Sequoia Lodge, set amid the Sequoia National Forest and featuring lakeside getaways and an extensive network of groomed cross-country ski trails; and the Sierra Highlands Resort and Campgrounds, which accommodates both campers and those staying in cabins, as well as on-site opportunities for fishing, boating, games like pool and ping-pong, and horseback riding.
Access
Reach the Kings Canyon portion of Sequoia-Kings Canyon National Park via the Kings Canyon Scenic Byway, California State Highway 180, which leads to Road's End. Some of the nearby lodging outside the park, like Rocky Ridge Cabin, is located off Highway 180 as well. For getting around the park itself, a great option for those wishing to reduce their carbon footprint -- not to mention let someone else do the driving while admiring scenery -- is the Sequoia Shuttle, which stops at Wuksachi Lodge and takes passengers to such park highlights as the General Sherman Tree, Moro Rock and the Lodgepole Visitor Center.
Photo Credits
giant sequoia's image by pixelcarpenter from Fotolia.com