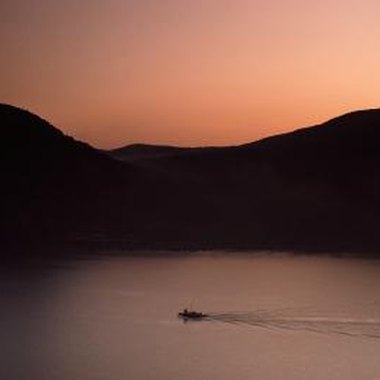 Duchess County lies 90 minutes from New York City between the Hudson River and the Connecticut border, where rolling hills and meandering rivers provide a scenic backdrop for Poughkeepsie, the county seat. Finding entertaining, interesting and family-oriented places for children to party is a breeze for parents. The county is full of historic sites, parks and other interesting venues that capture a child's imagination.
The Great Outdoors
Kids love running free. What better place to plan a party, than at one of the many state or local parks along the Hudson River? Mills Norrie State Park, for instance, has a pavilion that holds up to 50 people. However, the pavilion is not reservable. A swimming party at Capoke Falls is sure to be a success with a playground, supervisedswimming area and nature trails. "America's biggest little water park," SplashDown Beach, (splashdownbeach.com) in Fishkill, provides kids with water-park activities as well as daily concerts.
Batter Up!
For kids who enjoy sports, Fun Central (fun-central.com) in Wappingers Falls is the place to go. Batting cages and a miniature-golf course keep the kids busy. In addition to bumper cars and a virtual-reality roller-coaster ride, Fun Center has a "controlled" mine where kids mine their own gemstones and fossils. Of course, there is nothing like the thrill of an actual ballgame. Parents in Dutchess County have the advantage of signing up their kids as members of the Hudson Valley Renegades' Little Rascal's Kids Club, (minorleaguebaseball.com) where they can party at the Dutchess Stadium in Wappingers Falls. On Sundays, Kids Club members run the bases after the game.
Arts and Entertainment
The Bardavon Opera House (upac.org) in Kingston presents a variety of entertaining, kid-friendly events to inspire, educate and entertain budding thespians and performance artists. Constructed in 1869, the Opera House is both historic as well as a location where magic springs to life on stage in the form of plays, puppet shows and concerts. At the Center for Performing Arts (centerforperformingarts.org) at Rhinebeck, the Saturday Morning Family Series provides plays, puppet shows, music and magic.
A Day at the Museum
The Mid-Hudson Children's Museum (mhcm.org) provides a birthday bash for up to 20 guests. Museum staff set up tables and chairs. Parents are responsible for decorating, bringing food, paper products, beverages, tablecloths and serving utensils. This two-hour party also comes with interactive exhibits for the kids to explore, discover and enjoy. In addition, the Science Cart offers kids quick science demonstrations and activities, while the RiverTown Rover presents a look at the diversity of Dutchess County through crafts, games, and stories.
Photo Credits
Jupiterimages/Photos.com/Getty Images