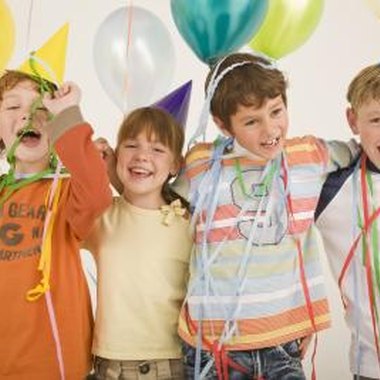 Portland, Ore., is a family- and kid-friendly city that offers a variety of fun and entertaining options for hosting a kids' birthday party. With Portland's notoriously rainy weather, many of the popular locations offer indoor activities to make sure kids have a great time in spite of cloudy skies. These top spots provide birthday fun for all ages.
The Portland Children's Museum
Room after room of fun for kids - from the Dig Pit to the Starlight Theater - makes the Portland Children's Museum a hot spot throughout the rainy winter months. The museum offers a variety of birthday party packages, from a basic room rental with admission for your guests to a party designed and led by museum staff with special activities. You even can rent the museum after hours for private party fun. Members save big on party packages, so consider becoming one if you are not already!
Oaks Park Amusement Park
This amusement park for the younger crowd features three different party packages: a roller skating package that is available any time of year, a mini-golf package, and a thrill-ride package available in the warmer months. Even if you choose to skip the package, Oaks Park offers enough fun for all ages to make it a popular birthday party destination.
Inflatable Kingdom
Located in the suburb of Tigard, Inflatable Kingdom is one of the top birthday party spots for kids in the area for good reason. The play area, filled with enormous inflatable bounce houses and slides, will keep kids of all ages busy for a long time. Inflatable Kingdom offers a variety of birthday party packages.
Papa's Pizza Parlor
The large indoor play area at this neighborhood pizza place makes it fun for kids, and the affordable party price at under $6 per child makes it popular with parents. There are several locations throughout Oregon, but the Papa's Pizza in Beaverton is a top pick for Portland-area moms.
Ultrazone
Older kids will enjoy the laser tag experience at Ultrazone, and party packages are available to accommodate groups of any size. The 5,000-square-foot laser tag arena provides hours of fun, and food for your party is available right on site.
Portland Parks
The Portland Parks and Recreation Department offers rental space at venues from indoor rec center gymnasiums to covered picnic shelters. Whatever type of party you are planning for your little one, there is a Parks and Rec location that is sure to fit your needs.
Photo Credits
Jupiterimages/Goodshoot/Getty Images