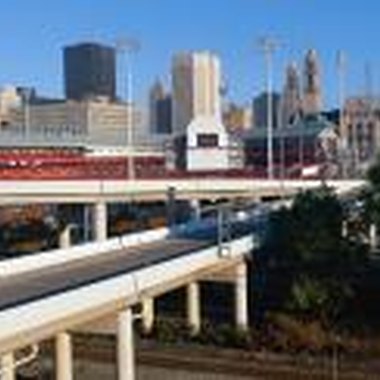 Children's birthday parties provide happy memories to look back upon, and a special outing with friends and family can make this all the more memorable. Residents of Buffalo, New York, have the choice of a number of venues that cater to kids' birthday parties. These range from the opportunity to enjoy making the acquaintance of animals at the zoo to a little roller-skating action at an extreme park.
Action Games
A little combat sport can provide exciting activity for a birthday, and laser tag is a safe way to enjoy it. Lasertron (lasertron.us), in the Buffalo suburb of Amherst, offers laser tag as well as go-karts and cyber sport. Birthday groups have the choice of a few options, starting with the basic two-hour package, which includes one game of choice plus food and drink. The private VIP party lasts for more than three hours and provides games of laser tag, cyber sport and go-karts, as well as food and soft drinks for guests.
Animal Theme
Becoming a member of the Buffalo Zoo (buffalozoo.org) provides privileges that include the opportunity to reserve a birthday party. The parties take place in a private room on Saturday or Sunday and offer the choice of a few different themes, including Animal Potpourri and Fun Feathered Bird Day. Parties lasts for two hours and include a live animal presentation by a dedicated host, food and drink, and souvenir bags for the children.
Museum
The Buffalo Museum of Science (sciencebuff.org) offers birthday packages for both members and non-members. These provide a little educational fun for children, with the two-hour party including an interactive learning experience as well as some enjoyable science lessons. The museum offers party themes such as Bug Bash, Pirate Science, Mad Scientist's Lab and Walk Like an Egyptian. The package also includes admission to the museum, and groups of 15 or more can have food and drink supplied for an additional fee.
Skating
Fans of roller-skating, skateboarding and BMX biking can visit Xtreme Wheels Indoor Skate Park (xtreme-wheels.com). The birthday party packages this facility offers include use of the skate park for a three-hour period. The package also includes reserved tables for the whole group as well as food and drink, such as pizza, soft drinks and popcorn.
Playtime
Adventure Landing (adventurelanding.com) has entertainment options including mini golf, arcade games and a Teddy Bear Factory. The facility offers birthday packages based around these attractions, with a few different options available. The Teddy Bear Party provides kids with the chance to make their own stuffed animal, while the Playtime Party Package offers use of the mini golf course and arcade. The various packages typically include a decorated table, soft drinks and food, such as pizza and hot dogs.
Photo Credits
Stockbyte/Stockbyte/Getty Images