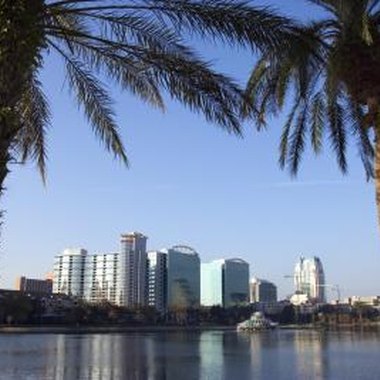 Orlando is one of the most visited destinations for families because of the presence of major theme park resorts in the area. Since successful hotels are in the business of knowing their target clientele, it's no surprise that the area is flush with kid-friendly resorts. The only question to answer is which place to stay.
Orlando Marriott World Center
The Orlando Marriott World Center is located near Walt Disney World and just a 15-minute drive from Orlando's other major theme parks. In addition to having lots of amenities geared for adults, the hotel's website boldly claims that it is Orlando's most kid-friendly accommodation. The six-pool complex at the World Center includes waterslides, wading pools for youngsters, waterfalls as well as a sandcastle building area. The outdoor activities also include sand volleyball, face painting, hula hooping and even spa services like manicures performed poolside. An indoor activity center features ping-pong tables and a video game arcade.
Ritz-Carlton Orlando Grand Lakes
The Ritz-Carlton is known worldwide for indulging its guests in luxury. At the Orlando Grand Lakes location, they extend the luxuries to the children as well. From the moment the family arrives, the kids are taken aside to their own separate check-in where they are informed of all the special amenities just for them. Kid's suites make the young ones feel at home with furniture and toys like they'd find at home in their own rooms. And room service can be customized for kids too, as they have their own menu to order from for in-room dining. Kids take part in a life-sized chess match, play croquet, float the day away in a giant pool that forms a slow-flowing river around the entire property, or splash in the hotel's one-of-a-kind "dive-in theater" pool where movies show on a big screen while they swim. Kids 5 to 12 are also welcome to join the Ritz-Carlton's kids program so the parents can get away for playtime of their own while the kids are in safe hands.
Gaylord Palms
The Gaylord Palms is a massive resort that caters to vacationers of all ages. This hotel resort combines luxurious accommodations and amenities that satisfy mom and dad, and it is packed full of exciting options for the children as well. The Coquina Dunes Recreation Park has volleyball, boccie and croquet. The pool complex features Clearwater Cove, a family-friendly swimming and play area featuring a zero-entry pool, a waterslide, waterfall and sandy area. The Kid's Nite Out program is an in-room sitting service for parents who wish to go out without the kids for a night, but the Gaylord Palms makes it much more than a babysitting service by arranging for activities and even kid's camps to take place for the children's entertainment. They'll never know you're gone.
Nickelodeon Suites Resort
If there is any resort hotel where kids are the obvious top priority, it is the Nickelodeon Suites Resort. Kids who are fans of Nickelodeon network characters like SpongeBob Squarepants or Dora the Explorer get a chance to meet them wandering about the resort each day. If that weren't a big enough thrill, the resort goes beyond the standard pool and slide -- they built an entire waterpark inside the place. Kids also get the pampering that's usually reserved for the adults in the party by visiting the kid's spa and salon. A mall, food court and movie theater help guarantee there is always more than enough to do for kids of all ages.
Photo Credits
Thinkstock/Comstock/Getty Images