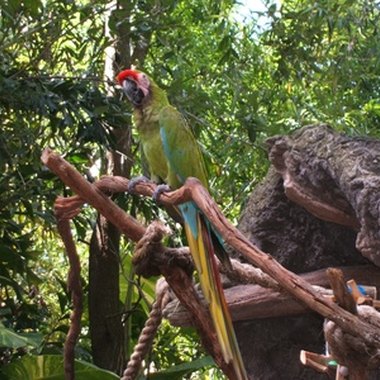 Traveling with children means you have to find a balance between what parents find entertaining on vacation and what the kids will enjoy. In Florida, one of the vacation hot spots in the Southeast, each region of the state has some hotel options that fit into the kid-friendly category.
Florida Panhandle
Florida's panhandle is known for its sugar-white sand beaches and lots of outdoor recreation. But one hotel in this northwestern section of the state has some extras that will make staying there fun for the whole family without ever leaving the property. At the Holiday Inn in Destin, kids have their own section in selected "kid's suites" with bunk beds and their own television with unlimited complimentary use of family movie titles as well as unlimited Playstation 3 game console titles. The hotel also offers the Little Buccaneers program, a kid's program that let's children see an alligator up close, view magic shows, visit an indoor carnival and go on a pirate treasure hunt — all in a supervised and safe environment.
Central Florida
With theme parks and endless other entertainment options, the Orlando and Kissimmee areas host hordes of tourists with children each year. Some hotels in the area cater especially to these families. The Nickelodeon Suites Resort is designed for kids. With opportunities for interaction with Nickelodeon stars like SpongeBob Squarepants and Dora the Explorer, this hotel is ideal for kids ranging from the very young to those hard-to-please tweens. With an on-site water park, kid's spa, lots of shopping opportunities and live television games to participate in, there is little chance kids will have any complaints about staying at this hotel. At Walt Disney World, parents and kids alike will be thrilled to watch giraffes, wildebeests and other African wildlife roam outside their hotel room windows. Disney's Animal Kingdom Lodge is an African-inspired hotel just a short trip from the Animal Kingdom theme park in the heart of the Walt Disney World complex.
South Florida
While the hottest spots in South Florida include trendy South Beach Miami and all the nightclub fun a grown-up can handle, there are also select places in this area where families can vacation with children. One example of a kid-friendly hotel in South Florida is The Breakers in Palm Beach. It is a luxury hotel that strives to attract families with kids. This oceanfront hotel has an interactive kid's camp and a family entertainment center where parents and kids can get together for video games, movies in a theater-like atmosphere, playgrounds, toddler's crafts and even a restaurant where mom and dad can have a quiet meal while the staff carefully watches the children play nearby.
The Keys
The Florida Keys is generally a place where adults gather for fun, but some hotels here provide entertainment for the kids as well. The Cheeca Lodge and Spa in Islamorada offers the Camp Cheeca kid's program that features fishing, arts and crafts, scavenger hunts, snorkeling and a variety of group games. In Duck Key, Hawks Cay offers kid's programs for every kid's age group. Younger kids can take part in Camp Hawk, a daily activity program with snorkeling, fish feeding and nature hikes. Tweens have a hang-out place to meet new friends and play Wii, Xbox and Playstation 3 as well as make arts and crafts and compete in games. Another program for kids ages 12 to 17 offers spa treatments, teen social events and kayaking.
Photo Credits
Parrot in Animal Kingdom Aug 05 image by amethyst from Fotolia.com