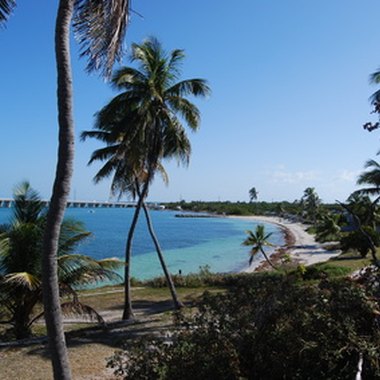 The southernmost city in the continental United States, Key West is an island in the Straits of Florida that is subject to mild, tropical climates. Warm weather, palm trees, white sand and azure surf sets the stage for Key West's luxury hotels and resorts, many of which feature tropical decor to reflect its surroundings.
Ocean Key Resort and Spa
Surrounded by the historic clapboard houses of nearby Duval Street is the Ocean Key Resort and Spa. The 100 guestrooms feature in room mini bars, as well as private balconies with panoramic views of the surrounding neighborhood and ocean. Each room and suite is exuberantly styled, with bright, pastel colors and Caribbean accents. The adjoining spa and treatment facility, SpaTerre, offers Balinese and Thai spa treatments, custom designed for this spa. The hotel's roof top restaurant, Hot Tin Roof, serves award-winning Caribbean cuisine.
The Reach Resort
The Reach Resort's true claim to fame is its 450-foot front-yard beach -- the only natural beach on the island of Key West. Guest rooms at Reach are sleek and modern-looking, with muted colors with an occasional pop of red. Water-sport equipment is available for rent, including wave runners, boats, snorkel equipment, as well as terrestrial verticals, including scooters and electric cars. The front desk organizes boat trips, parasailing, scuba diving and dolphin encounters.
The Westin Key West Resort and Marina
Located on the waterfront of historic the "Old Town" of Key West is the Westin Key West Resort and Marina. The large grounds are studded with palm trees, pools, lounge chairs and large umbrellas, culminating in a very tropical, care-free atmosphere. The rooms have soft, golden tones and minimal decor. The resort will arrange water sports upon request, including parasailing, diving, kayaking and wave running. Several restaurants and lounges serve a variety of American food and snacks, as well as fine international wine.
Pier House Resort and Caribbean Spa
The Pier House Resort and Caribbean Spa is made up of 26 accommodations, ranging from house-sized suites to small guest rooms. However, each of the rooms are elegantly decorated and sport spring colors. A small, private beach separates the resort with its Caribbean Spa, so the white sand can be nearby both facilities. The spa offers such treatments as detoxifications, anti-aging, tanning, facials, manicures and massages. A cafe, restaurant and two bars serve drinks and seafood to guests all day.