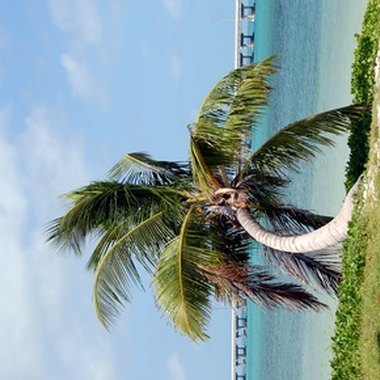 The "Duval Crawl" is what many visitors and locals in the island town of Key West, Florida, call the process of bar hopping along the city's most famous street. Stretching between the Atlantic Ocean and the Gulf of Mexico, Duval Street is lined with restaurants, specialty shops and famous bars. Drinking spots along Duval Street include former Hemingway hangouts Sloppy Joe's and Captain Tony's Saloon, as well as popular party venues The Bull and Whistle and Irish Kevin's Bar. The atmosphere on Duval leaves visitors searching to find accommodations nearby.
Blue Marlin Motel
Located on the south side of Old Key West and just one block from Duval Street, the 54-room Blue Marlin Motel is situated around a large freshwater heated pool where guests swim as they please. The rooms here are decorated in a modern style with oak furnishings, air conditioning for the hot island nights, refrigerators to keep your cocktail mixers cold and cable television.
El Patio Motel
The El Patio is a 29-room Art Deco motel with 1950s flare. This motel is located in a residential area of the island and includes free parking, which is a luxury in most of Key West. The motel has a freshwater swimming pool, and a rooftop sun and stargazing deck. Cuban tile floors and jalousie windows add to the charm of this quiet, clean and comfortable motel. Otherwise, the motel is a no-frills location with reasonable rates for the area. The location is ideal for visitors, being only two blocks from the Atlantic Ocean and three blocks from Duval Street.
Best Western Hibiscus Motel
One block from the shops, bars and restaurants of Duval Street, the Best Western Hibiscus Motel is one of the few national chain motels on the island. Guests here are within walking distance of many of Key West's most visited spots, such as the Southernmost Point, the Ernest Hemingway House, and Duval Street tourist hot spots like Margaritaville. The rooms at the Best Western Hibiscus are equipped with high-speed wireless Internet, refrigerators and microwaves. Those staying in the hotel enjoy a heated pool, hot tub and free breakfast.
Sea Shell Motel
The Sea Shell Motel and Key West Hostel is a place for the basic essentials. This property is located just three blocks from Duval Street and three blocks from the Atlantic Ocean. The private rooms all have two double beds or three single beds. The courtyard has a gas grill and a coin-operated laundry room is on site. The tile floors, small television and minimal furnishings may pale in comparison to some of the larger hotels along the island's beaches, but the rate you pay for a night at the Sea Shell is likely to be a fraction of what is typical at a hotel resort in Key West.
Photo Credits
Palm Trees Key West Florida image by itsallgood from Fotolia.com