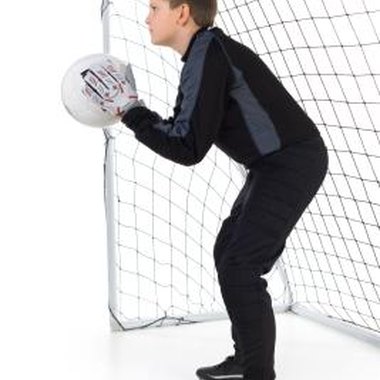 The state of Kentucky has a strong soccer culture with both youth and collegiate soccer organizations. For those looking to hone their skills as a goalie, there are many camps and training programs to assist in developing your talents that offer instruction for all ages and ability levels.
Kentucky Youth Soccer Association Camps
The Kentucky Youth Soccer Association (kysoccer.net) holds annual summer camps that work toward the goal of advancing each player's soccer skills through individual and group training and activities. Training is completed in the four key areas of the game including tactical, technical, psychological and physical. Each child is guaranteed personalized coaching in their specific position or area of interest. The association's camp staff includes coaches and soccer athletes from around the world who specialize in all areas of skill and development, including Olympic development and professional training.
University of Kentucky Boys and Girls Summer Soccer Camps
Kids can learn from Kentucky's best college athletes at the University of Kentucky's soccer camps. Hosted by the University of Kentucky coaching staff and supplemented by Wildcats team members, these soccer camps include day, residential, elite and team camps. High school students can also take part in camps that are specifically geared toward their age group and skill level. These camps provide team and individualized training for soccer players to gain skills and experience.
Western Kentucky University Women's Soccer Camps
For girls aged 12 to 18, Western Kentucky University offers three different soccer camps. Located in Bowling Green, there is a team camp, finishing camp and goalkeeper camp during the summer months. For registration information, contact Lady Topper Soccer at (270) 745-4952.
Class A Soccer Camp
Located at Asbury College in Wilmore, Class A Soccer Camp is for pre-college and high school soccer players. The camp offers both team and individual instruction; in addition, the camp works on building leadership and character. The coaching staff includes soccer players who have professional experience as well as personnel who work with the soccer team at Asbury College.
Photo Credits
Jupiterimages/Photos.com/Getty Images