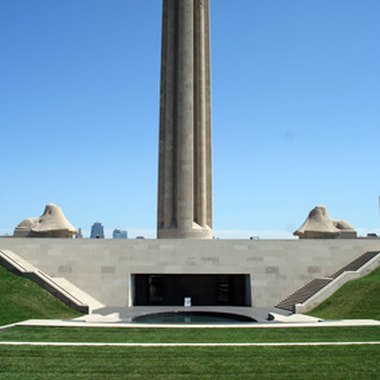 Whether you are heading to the Sprint Center for a live show or to root for your favorite team, several hotels nearby offer accommodations for a variety of tastes and budgets. The properties are nestled in the heart of downtown Kansas City, Missouri, steps away from cultural sites, vibrant nightlife and the Kansas City Power & Light entertainment district. The hotels range from a historic property serving up a 32-item breakfast buffet to a boutique hotel featuring live jazz performances.
Holiday Inn Aladdin
The Holiday Inn Aladdin offers moderately priced accommodations in an Italian Romanesque-style building that is listed on the National Registry of Historic Places. The property is within walking distance of the Sprint Center and the Kansas City Power & Light District, a mixed-use development offering shopping, restaurants and a roster of concerts. The 16-story building dates back to 1925; it underwent a 21st-century face lift to modernize guest rooms with contemporary furnishings, vibrant decors and DVD/CD players. Amenities include a video rental kiosk; cocktails and nightlife at the Martini Loft; and full-service dining at the Zebra Room restaurant, which offers free meals for children under age 12.
Hotel Phillips
The Hotel Phillips offers boutique accommodations within a half-mile of the Sprint Center. The hotel is steps away from Kansas City Convention Center; Lyric Opera of Kansas City; and the Midland Theater, an early 20th-century venue offering several bars and a roster of live shows. A downtown landmark since opening in 1931, the Hotel Phillips features an ornate lobby adorned with marble floors, chandeliers and a spiral wooden staircase. Accommodations consist of contemporary guest rooms with custom wood blinds and marble baths. Hotel amenities include 24-hour room service and the 12th Baltimore Cafe, a fashionable eatery featuring live jazz performances and serving up calamari, fried oysters, steaks and burgers.
Hotel Savoy
The Hotel Savoy is a historic, all-suite property within walking distance of the Sprint Center, Kansas City Market and the Negro Leagues Baseball Museum. The hotel dates back to 1888, and it offers Victorian-style suites with French doors separating the bedrooms from living areas. Suites are traditionally furnished, and they feature floral wallpapers, 8-foot windows, ceiling fans and clawfoot bath tubs. Amenities include a complimentary, 32-item breakfast buffet, which offers omelets, smoked salmon with caviar, roast beef hash and pastries. The hotel is also home to one of the city's oldest restaurants, the Savoy Grill, which has hosted several US presidents, including Harry S Truman and Ronald Reagan.
Comfort Inn and Suites Downtown
The Comfort Inn and Suites Downtown is a budget hotel about a mile from the Sprint Center. The hotel is adjacent to Interstate 70, within walking distance of the historic Garment District; and about a mile from the Kansas City Power & Light District. Guest accommodations range from traditionally decorated rooms to whirlpool suites with sofa beds and jetted tubs. Hotel amenities consist of a heated outdoor pool, a limited exercise room and complimentary a breakfast buffet with hot and cold items.
Resources
Hotel Phillips;106 W. 12th St.; Kansas City, MO, 64105; 816-221-7000
Hotel Savoy; 219 W. Ninth St.; Kansas City, MO, 64105; 816-842-3575
Photo Credits
liberty memorial image by Trevor Goodwin from Fotolia.com