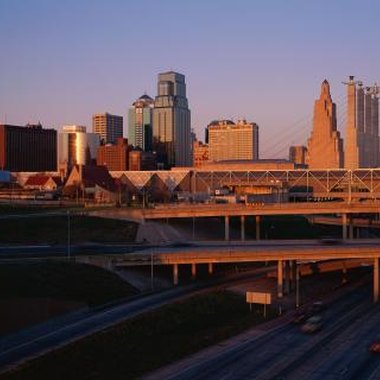 Kansas City features a rich history rooted in early 20th-century Americana, from Art Deco-style architecture to simple down-home customer service, and the vintage hotels that populate the city reflect this history. Travelers with a hankering for the days of yore will feel right at home in one of the city's many historic hotels, although accommodations are typically on the pricier side. Modern-day amenities mean that guests will get the best of both worlds -- old and new.
The Raphael Hotel
The Raphael Hotel, built in 1927, is located adjacent to the Country Club Plaza district and is listed on the National Register of Historic Places. The 100 percent non-smoking property features Spanish Renaissance Revival-style architecture patterned after many of Europe's most well-known boutique hotels and is within striking distance of area attractions like the Kansas City Zoo and Truman Sports Complex. Guests can make use of a 24-hour front desk, fitness center with Precor equipment, complimentary valet parking, shoe-shine service and free wireless Internet throughout the building. The on-site Chaz Restaurant intersperses natural walnut finishes and polished granite with vibrant splashes of red and features a floor-to-ceiling mural of local Plaza landmarks as well as live music by local artists Tuesday through Saturday. All 35 rooms and suites are rooted in early 1920s decor but feature modern conveniences like LCD TVs with premium HD channels, iPod docking stations and automated refreshment centers.
Hotel Phillips
The 20-story Hotel Phillips is an Art Deco masterpiece that first opened in 1931, and at the time was the tallest building in Kansas City. The AAA-rated four-diamond property is nestled in the heart of downtown near points of interest such as the City Symphony and Kansas City Convention Center. The grand atrium features dual staircases and a golden statue named Dawn, which has greeted guests since the hotel opened, while amenities range from a state-of-the-art exercise gym to dry-cleaning services to a dedicated concierge. In addition, corporate travelers can make use of an unstaffed business center, video conferencing and nine different meeting rooms. The hotel's 12 Baltimore Cafe serves three meals per day from an upscale menu, with a breakfast buffet on weekends and live jazz on Saturday nights. All of the 217 tastefully appointed guest rooms feature European-style king or queen beds with duvet covers, 27-inch satellite TVs, and private baths with make-up mirrors and Well Spa amenities.
Hotel Savoy
The Hotel Savoy is one of the city's oldest hotels, built in1888, and it still features some of the original decor, such as imported marble and tile, brass fixtures and an Art Nouveau-style stained-glass skylight. The building overlooks the historic Garment District and is only two blocks from the Bartle Hall Convention Center, while the Kansas City Downtown Airport is just five minutes away by car. Business travelers and event planners can utilize more than 8,000 square feet of classically designed function space, complete with 12-foot ceilings and Corinthian columns, while knowledgeable desk staff members can assist out-of-towners in navigating the area. In addition, the Savoy Grill offers a fancy menu with choices ranging from lobster bisque to veal Marsala to oysters in the half shell. Individually decorated guest rooms feature antique furniture and claw-footed bathtubs, while all room rates include free Wi-Fi access and a 32-item continental breakfast served daily.
Muehlebach Hotel
The 12-story Muehlebach Hotel, originally built in 1915, eventually became known as "Kansas City's Hotel of Presidents" after catering to American leaders ranging from Woodrow Wilson to Harry Truman to Richard Nixon. In 1996, the Marriott Corporation took over the property and turned it into the Kansas City Marriott Downtown, although the property retained both its state and federal historic landmark status. While the overall hotel was renovated and modernized, several of its original features were restored to meet historic preservation standards, including early 20th-century lamps, sit-down telephone booths and pigeon-hole mailboxes behind the registration desk. Guests staying at the Marriott can request accommodations in the Muehlebach Tower, offering contemporary amenities such as granite baths, an in-room fitness program, and 37-inch flat-panel TVs with plug-in technology that allows guests to watch their own DVDs. On-site recreation includes an indoor lap pool and massage services, while The Music Hall and Power & Light District are just a few minutes away by foot.
Photo Credits
Stockbyte/Stockbyte/Getty Images