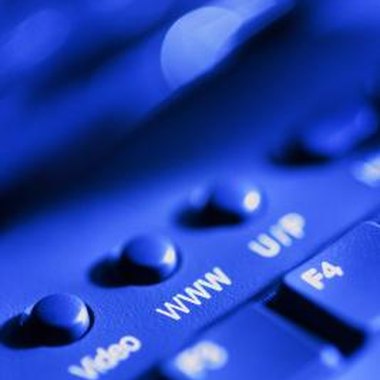 Juno, an Internet service provider based in the United States, is a division of the United Online Corporation, which owns other brands such as FTD and NetZero. Known for its affordable, unlimited dial-up service with no credit card activation, it also offers high-speed Internet service through its Accelerated Dial-Up and DSL Broadband programs.
Turbo Accelerated Dial-Up
Juno's Turbo Accelerated Dial-Up service offers unlimited Internet access with speeds up to five times faster than basic dial-up service. The program, available only for Windows platforms, uses an existing phone line and requires a minimum system requirement of a 90MHz processor, 64MB of RAM, a 28.8K modem and 20MB of free disk space on the Windows 98, SE, ME, 2000, or XP programs. Windows 7 and Vista users are required to have a minimum 20MB of free disk space, an 800MHz processor, 512MB of RAM and a 56K modem. The program can be downloaded in as little as two minutes and it includes 2GB of email storage.
DSL Broadband
Juno's DSL Broadband service provides unlimited high-speed Internet access with speeds up to 6.0Mbps, which is 100 times faster than dial-up service. It includes a free modem with built-in firewall that does not tie up the phone line. The minimum system requirements for Windows users include: a 266MHz processor with 128MB of RAM and free disk space for Windows 98/ME platforms, a 300MHz processor with 256MB of RAM and 150MB of free disk space for Windows 2000 and XP platforms, and an 800MHz processor with 512MB of RAM and 15GB of free disk space for Windows 7 and Vista users. Mac requirements include a 333MHz G3 processor with 128MB of RAM and 12MB of free disk space. For additional convenience, a Juno Turbo Accelerated Dial-Up account is included at no extra charge.
Security Features
The Turbo Accelerated Dial-Up and DSL Broadband services offers one free month of three different security programs: Norton AntiVirus, Norton Internet Security, and Norton 360. The Norton Antivirus program provides protection against viruses, Trojan horses, worms and spyware while Norton Internet Security includes email protecting and additional protection against online identity theft and phishing scams. The Norton 360 program operates only on the Windows platform and offers all-in-one protection against online threats in addition to the features of the Norton Internet Security program. Charges after the first month are incurred at varying rates.
Technical Support
Juno offers free, 24-hour customer support that includes online and live email support for any technical and customer-related issues. Live technical telephone support is offered free to all users 18 years or older only during the first 30 days after initial registration. After the 30-day period, a per-minute service fee is incurred and charged to a valid credit card, which users provide at the time of the call.
Resources
Photo Credits
Thinkstock Images/Comstock/Getty Images