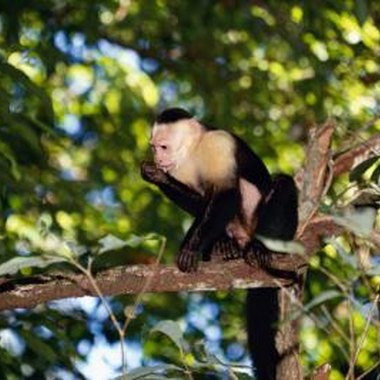 Zebras, monkeys, hippos and tree frogs can be thought of to create an intriguing atmosphere for a jungle party. When hosting a jungle-theme party, take a walk on the wild side and prepare a variety of foods that compliment your theme. Decorate the food tables with fake vines, canteens, binoculars and stuffed jungle animals.
Appetizers
Appetizers give party guests something to snack on before the other food and desserts come out. Safari hats placed upside down on the party tables and lined with paper towels work perfect for appetizer bowls. Some food ideas to fill the hats with include banana slices, animal crackers, circus peanuts, gummy insects and animal fruit kebobs. According to the birthday in a box website, you can make your own banana slices by placing thinly slice bananas on a baking sheet and baking them at 150 degrees for two hours with the oven door open about an inch wide.
Snacks
Jungle-themed bowls or safari hats also work perfect for serving jungle-theme snack foods at a party. You can place trail mixes, chips, dips, ostrich eggs (deviled eggs), chocolate covered ants (chocolate-covered raisins), tiger tails (Cheetos) and wild pigs in blankets (hot dogs wrapped in croissant rolls) in the bowls or hats. Some trail mix ideas include making an easy jungle trail mix by mixing raisins, nuts and colored chocolate candies. For a monkey trail snack, mix shredded coconut, cashews, miniature chocolate chips, cashews and banana chips in a bowl.
Main Dishes
Serve up some tasty zebra sandwiches by using a slice of white and a slice of dark bread to create sandwiches like peanut butter and jelly or with meat. When you cut the sandwiches into strips, you can call them zebra sandwiches. You can also use a zebra-shaped cookie cutter instead of cutting them into strips. Additonally, you can serve animal-shaped chicken nuggets on a large platter with a variety of dipping sauces, such as ranch, ketchup, barbecue sauce and honey mustard. Other main dish ideas include animal-shaped pizzas (using animal cookie cutters), french flies and snake dogs (hot dogs).
Desserts
End the jungle party with wild jungle desserts. Guests can decorate animal-shaped sugar cookies with frosting, icing pens and candies. Or you can make monkey banana pops by cutting bananas in half and sticking a popsicle stick in each one. To do so, roll the bananas in chocolate syrup and nuts. Freeze the monkey pops for six hours before serving. And brownies cut into circles with hot fudge poured over the top make perfect "hippo mud brownies." Some other dessert ideas include zebra shakes (vanilla ice cream, milk and Oreo cookies), animal-themed cupcakes, animal-shaped cake and parrot ice cream (rainbow ice cream).
Photo Credits
Brand X Pictures/Brand X Pictures/Getty Images