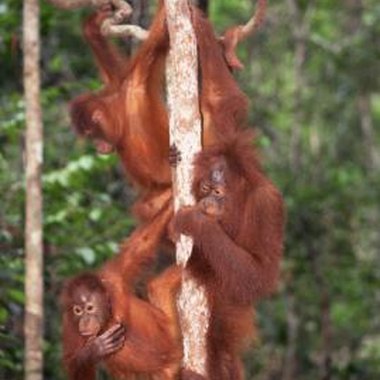 Lions can be frightening or they can be happy kings of the jungle inviting you along for the fun. Elephants stampeding are dangerous but a line of baby elephants ambling along swinging their trunks is a sweet sight. Get a jump on the jungle theme on the front of your baby shower invitation, within the first few lines. Think of the various jungle animals and the actions or images they bring to mind and tie the wording into your theme.
Monkeyin' Around
Think monkeys and you conjure up images of playful little imps creating harmless mischief that's sure to keep everyone entertained. Or think of larger, older mama monkeys who tuck their babies under one arm as they swing tree to tree. A monkey-themed invitation could say, "Come monkey around with us at Alyce's baby shower." Add the details of where and when and an image of monkeys playing to tie it all together.
King of the Jungle
No doubt about it, the lion is king. But that doesn't mean he should be ferocious. Find an image of a sweet, playful lion and add the words, "No lyin', we're tryin' to help Shannon get ready for baby-to-be. Join us in the jungle..." and give the important details.
Baby Elephants
Shy baby elephants make us forget their stampeding older cousins and overprotective mamas. Keep yours small and everyone will think of sweet little Dumbo instead. Buy invitations that show a baby elephant and write, "Baby elephants out to play invite you to join our fun-filled day. It's a jungle shower for Belinda and Baby!"
Parade of Animals
A jungle is full of different animals, so get them all in on the fun! Use clip art or a border of many jungle animals on your invitation with the words: "Please join in our party for fun, food and laughs, as monkeys and zebras, lions and giraffes help welcome Liz & Aaron's baby-to-be!"
Picture It
Whether you buy invitations with a jungle image or make them yourself, this is one theme that definitely calls for visuals. Use free online clip art or make your invitations by hand. Cut jungle animals out of construction paper, wrapping paper or background paper from scrapbook supplies. Craft stores are sure to have cut outs of jungle animals in their scrapbook departments, stickers, foam shapes and more. Then add your playful wording.
The Important Details
Be sure to clearly state the "where and when" details of the party and place them prominently where they are easily seen. Unless you actually live on Bearclaw Lane, this is not the place to be clever. Say "Saturday, July 10, 2 p.m. to 4 p.m. at the Monroe house, 1234 Sheridan Street. RSVP to Cindy at xxx-xxx-xxxx."
Sticker It
For a finishing touch, put your invitations in bright green envelopes, available at stationery and office supply stores. Add a jungle sticker on the back.
Photo Credits
Jupiterimages/Photos.com/Getty Images