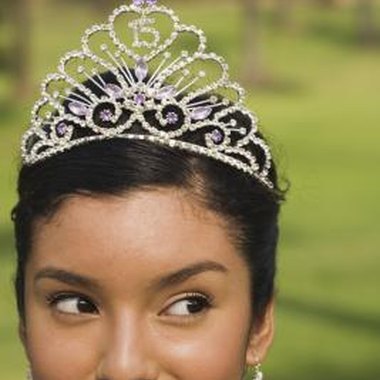 Earn scholarship money for college by competing in a beauty pageant. Miss USA, Miss Teen USA, Miss Universe and Miss America are the most well known beauty pageants, but in order to compete at the national level, you must enter and win a local pageant first. All beauty pageants vary in judging criteria, but for the most part, all pageants judge contestants on four attributes: speaking skills, physical fitness, appearance and talent. Contestants are judged individually, not comparatively.
Interview
Beauty contestants need to communicate well and do a lot of public speaking as a title holder. The interview portion of a beauty pageant consists of a question-and-answer period with the judges, usually held in-private and not in front of an audience. During this one-on-one session, judges talk to each female contestant about her goals, talents and ambitions. Some of the questions may also be about current events. Judges are not only grading contestants on their self-confidence, but also their poise, charm and speaking skills. Some pageants may also feature on-stage interviews, when contestants answer one question about a general topic. For this portion of the competition, judges evaluate each contestant on her comfort with speaking in front of a large audience, her response time, and overall answer.
Fitness
The fitness portion of the competition usually involves a swimsuit. This segment focuses on the face, figure, and confidence of each each contestant. If there is no swimsuit portion, contestants may have to show their fitness performing some sort of dance or high energy routine. According to the Miss Texas USA competition, physical measurements, such as bust, waist and hip size, are never considered.
Evening Wear
During the evening gown portion of the competition, contestants can show judges their sense of style. Every contestant picks her own dresses to wear for this part of the competition. When selecting a dress, consider wearing a dress that flatters your figure. In most cases, contestants have free range on the length, color and style of the dress. Pick a dress that you feel confident wearing. Judges typically score a contestant's overall appearance, sense of style and self-confidence while wearing the evening gown.
Talent
Some beauty pageants still judge contestants on their talent. During this segment of the competition, contestants are expected to showcase artistic ability, whether it's playing a musical instrument, performing a choreographed dance, or singing. Other options include dramatic reading, performing magic, or poetry. Judges base their scores on overall impression, technical skill, stage presence, quality of the performance and entertainment value.
Photo Credits
Jupiterimages/Brand X Pictures/Getty Images