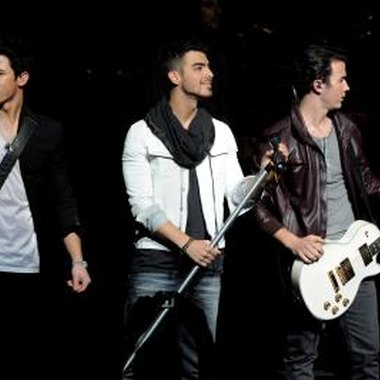 Many tween and teen girls adore Nick, Kevin and Joe Jonas. When hosting a Jonas Brothers birthday party for your daughter, consider planning a variety of Jonas Brothers-themed crafts for the party guests to complete. Girls will squeal with delight while creating Jonas Brothers crafts they can take home as mementos of the party to hang in their rooms and display to friends.
Easy Crafts
For an easy craft project, print pictures of the Jonas Brothers or use magazines with pictures of the pop stars. Girls can cut out the pictures and make their own Jonas Brothers photo collage. For a small collage, give them a piece of white construction paper and they can glue the pictures to it. Cover with contact paper to make the collage more durable and last longer. For a large collage, glue the pictures to poster board. Have an adult laminate the poster to make it last longer.
Backstage Passes
Let the girls make their own backstage passes using markers, crayons, paint and glitter pens. Give each party guest a clear sleeve and lanyard. They can use card stock or poster board to draw the backstage pass. After the picture dries, tell them to put the backstage pass into the clear sleeve and wear it during the party. For a variation, have the girls use the supplies and poster board to make concert tickets. They can also cut pictures of the Jonas Brothers from magazines to attach to the backstage passes and tickets.
Tie Crafts
The Jonas Brothers wear a variety of ties, so make a craft for the girls using ties. You can find inexpensive ties at a thrift store or online. Tell each girl to select a tie to decorate. Give the girls glitter glue, rhinestones, buttons, pompoms, safety pins, ribbon and iron-on transfers. Jonas Brothers iron-on transfers are available. Light, solid-colored ties work best for decorating. The girls can also use glue and tape to make other crafts out of ties. For example, tell them to try to shape the ties like a guitar or microphone.
T-Shirt Crafts
Give each girl a light-colored T-shirt to decorate. They can use fabric markers, acrylic paint, glitter pens, jewels, beads and lace to decorate the shirts. Have Jonas Brothers iron-on transfers ready for any girl who would like you to iron one on her shirt. Tell the girls to write the pop stars' names on their shirts, draw pictures of music notes and sign each other's shirts. For added decoration, the girls can use music-themed stamps to dip into paint and press on the shirt. You can also use large oversized shirts for the girls to wear as nightgowns.
Photo Credits
Kevin Winter/Getty Images Entertainment/Getty Images