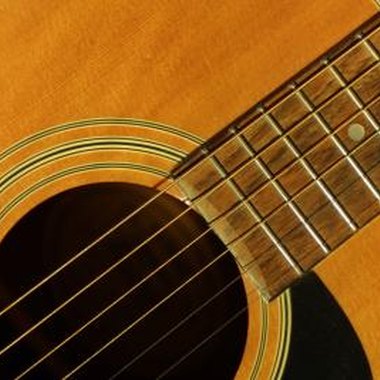 A Johnny Cash party can be loads of nostalgic fun, especially for new fans or those that were young when his career took off. Johnny Cash's music can provide hours of dancing and singing for your bash, but don't forget the decorations, games and activities related ti the star that will make your party go off with an even bigger swing.
Costumes
Have your guests come dressed in tribute to Johnny Cash. They can carry a guitar and wear his signature black shirt, pants and hat or come as his wife, June Carter Cash, wearing a frilly, feminine 1950s-style dress with a long wavy brown wig. Or they can get creative and bring one of Mr. Cash's songs to life. They might dress as a prisoner from "Folsom Prison Blues." Young female guests could wear a prom dress and a tiara from "Ballad of a Teenage Queen."
Entertainment
You could rent a karaoke machine with all of Johnny Cash's songs on it if your budget allows. Give every guest the chance to belt out his favorite. Couples can do a Johnny Cash/June Carter duet, such as "Time's A-Wastin.'" Or you could hire a Johnny Cash impersonator to get the second-best thing to a real show. And show "Walk the Line," the feature film based on Johnny Cash's life. You can play a CD of Johnny Cash's lesser-known songs while guests mingle.
Games
Gather biographical information on Johnny Cash before the party to make up questions for a trivia game. Split guests into teams and ask questions. The first player to raise her hand gets to answer. If she is wrong, the other team can "steal." If she is correct, her team can continue answering questions until they miss one. You can also play charades with the titles of Johnny Cash songs. Each guest must act out the title of one of his songs. For example, "Cry, Cry, Cry" could be illustrated by a guest pretending to sob uncontrollably.
Decor
Set up cardboard cutouts of Johnny Cash throughout your venue so guests can take pictures with him. Display all your Johnny Cash albums and memorabilia for guests to peruse. Set out acoustic guitars and sheet music of his songs. Hang up a large map of Arkansas and stick a pin through Dyess Colony, where he grew up. To illustrate his early life on the family farm, lay a tarp on the corner of the floor and cover it with sand, and then stick cotton stalks inside it. Hang up an old army uniform and a map of Germany to illustrate the time Johnny Cash served in the armed forces. You could also make your own signs for various places that were important to Johnny Cash's life, such as Sun Records, where he first auditioned to be a gospel artist, or the Grand Ole Opry, where he finally got to perform and realize a lifelong dream in 1956.
Photo Credits
Hemera Technologies/AbleStock.com/Getty Images