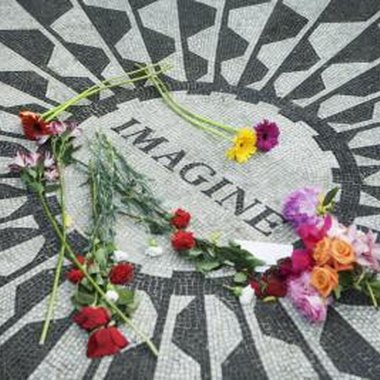 Known as the most outspoken of the Fab Four, John Lennon first achieved fame as a member of the British rock band, the Beatles. Together with Paul McCartney, Lennon wrote some of the most well-known songs in rock history, including "She Loves You" and "Yesterday." After the Beatles disbanded in 1970, Lennon moved to New York, turning his attention to his family and solo career. Tragically, he was killed in New York in 1980.
Strawberry Fields
Named for the 1967 Beatles classic, "Strawberry Fields Forever," Strawberry Fields is a 2.5-acre quiet zone in Central Park West. It was one of Lennon's favorite spots in the park and is adjacent to the Dakota, where he lived until his death, and which remains the home of his widow, Yoko Ono. New York City Councilman Henry J. Stern set aside a portion of Central Park as a memorial to Lennon in 1981, and Strawberry Fields was designed through a collaboration with landscape architect Bruce Kelley and the Central Park Conservancy. Ono donated $1 million to the creation of Strawberry Fields and -- in addition to the "Imagine" memorial -- visitors can find a bronze plaque commemorating the more than 120 countries that also donated funds to maintain the area. Strawberry Fields officially reopened on Oct. 9, 1985, which would have been Lennon's 45th birthday.
The Imagine Memorial
Near the west end of Strawberry Fields, at the intersection of two walking paths, visitors can see the "Imagine" memorial, named for Lennon's 1971 song of the same name. Designed by a team of artists from Naples, the black-and-white circular mosaic sits in the pavement, across from a row of park benches. Lennon's name is not on his memorial, but rather it displays the single word, "imagine." It is not unusual to see flowers -- sometimes arranged in the form of a peace sign -- candles or other mementos left by Lennon's legions of fans on the circular memorial. It is here that Lennon's fans gather each year on the anniversary of his death to celebrate his life and legacy.
Imagine's Message
"Rolling Stone" magazine calls "Imagine," the title track to 1971's "Imagine" album, Lennon's "greatest musical gift to the world." The song epitomizes Lennon's view of the world as one that is undivided by religion, possessions or politics. He believed it was as good as anything he ever wrote for the Beatles and "Rolling Stone" agrees, naming it the third-greatest song of all time. Ono carried the message from "Imagine" over to another memorial dedicated to Lennon, the Imagine Peace Tower in Reykjavik, Iceland. The tower, which opened in 2007, is a stone monument featuring the words "imagine peace" in 24 different languages. Each year between Oct. 9 and Dec. 8 -- Lennon's birthday and the date of his death -- a column of light stretches from the monument into the sky. More than half a million "wishes for peace," collected by Ono at her art gallery showings, are buried in capsules at the base of the monument, and a tree has been planted over each capsule.
Lennon and New York City
New York City was home to the British rock star in his final decade. He and Ono moved to New York in 1971, beginning a special relationship with the city that lasted until he was shot in front of his home by Mark David Chapman in 1980. Ono said in a PBS documentary that, "New York became a part of who John and I were." Lennon moved to New York to start a new chapter of his life after the breakup of the Beatles, and he appreciated that while he was recognized, he was not hounded by his fans, many of whom routinely gathered near the gates of the Dakota. Like many New Yorkers, Lennon and Ono were immigrants, but they became fixtures in the city that they adopted as their home and could often be seen in Central Park, now the home of Lennon's memorial.
Photo Credits
Medioimages/Photodisc/Photodisc/Getty Images