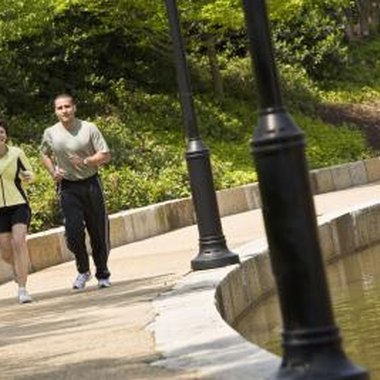 Pflugerville, Texas -- pronounced "floo-ger-ville" -- lies just 15 miles north of bustling downtown Austin, the state capital. Home to nearly 51,000 residents as of January 2010, Pflugerville calls itself the town "Where Quality Meets Life," because its green spaces and laid-back atmosphere offer an inviting alternative to Austin's crowds and heavy traffic. Recreational and competitive athletes especially appreciate Pflugerville's jogging trails, which wind through parks, creek beds and historic sites.
Trail System
Pflugerville's jogging trails cover more than 25 miles, beginning at trail heads scattered throughout the town. The most popular trail loops around the town lake while other trails follow creek beds or meander past historical sites. Before setting out, download a detailed map (a link is provided in the Resources section) to help you choose the best route for your needs and ability. New construction may cause temporary road closures and detours, so check the city's website for up-to-date information. Bring plenty of water, especially during the hotter months when temperatures rise above 100 degrees.
Lake Pflugerville
The Lake Pflugerville trail loops around a 180-acre reservoir in the eastern part of the city at the intersection of Weiss Lane and Pflugerville Parkway. This 3-mile granite trail is open for running, walking or jogging 24 hours a day. The surrounding park closes at night but reopens at dawn for swimming, kayaking, kite surfing and fishing. The park offers a sandy beach, a playground, a boat launch and a picnic area.
Heritage Trail
The scenic 3-mile Heritage Trail, designated in 2008 as a National Recreation Trail by the U.S. Department of the Interior, runs past such Pflugerville historical sites as the Bottling Works, Heritage Park, the old railroad line, Bohls House and Carrington School, as well as around Gilleland Creek. The 17-acre Heritage Park also has a 0.25 jogging loop, as well as a museum, picnic facilities and an orchard.
Events
If you're in the area on the third weekend in May, bring the family to Pflugerville's Deutschen Pfest. Held at Pfluger Park on City Park Road, the three-day event includes live music, face painting, carnival rides, a 3-mile run/walk and a 1-mile kids' walk. The city also hosts a triathlon in June each year that includes a 500-meter swim in Lake Pflugerville, a 14-mile bike ride and a 3-mile run around the lake's jogging trail.
Photo Credits
Comstock Images/Comstock/Getty Images