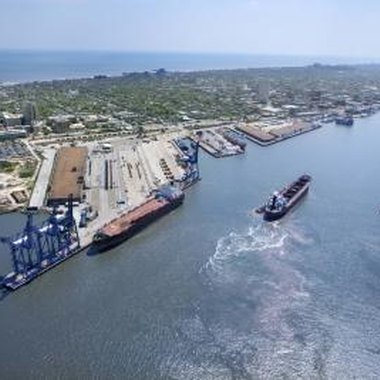 Prime saltwater fishing is one of the top tourist attractions in Galveston, Texas, and the island's massive jetties provide much of the allure. You might even get the chance to wrestle with a massive redfish or shark. The jetties also have a reputation for being a dangerous spot, however, so arm yourself with a bit of know-how along with your bait and tackle
Identification
The adage "everything's bigger in Texas" applies to its jetties, as well. Galveston has two main jetties, the North Jetty and the South Jetty, which were completed in the late 1800s to provide a deep-water channel to the island and eventually other industrial cities along the Houston Ship Channel. The two granite jetties stretch more than 6 1/2 miles across the water, earning them a place in the "Guinness Book of World Records" as the world's longest jetty system, and the North Jetty alone stretches about five miles into the Gulf of Mexico. Although some stretches are accessible only by boat, you can walk about two miles out on the North Jetty.
Fishing
Local anglers have long regarded the Galveston jetties as a quality fishing spot. You stand a good chance of landing Spanish mackerel, black drum, red snapper, trout, gafftop, giant bull redfish and numerous other sea creatures -- including sharks. Youl also will face the challenge of strong currents and jagged rocks waiting to snare your line and bait. You can join the numerous anglers who merely walk out onto the jetty to fish, but you might have an easier time if you fish of the jetties by boat, as you can move quickly and get a little distance from the rocks. If boating isn't your forte -- and the treacherous jetties are hardly the place for amateurs to practice -- numerous charter boat services in the Galveston area offer fishing trips off the jetties. They usually provide bait, leaving you room for extra beer in the cooler where you'd usually store your squid.
Tips
If fishing on foot, you'll need a long rod to help you get a good distance from the rocks. If on a boat, you can use action rods, though you might need a heavy line and significant weight to counter the current. If you have the skill and equipment to fish close to the rocks, you'll find many of the best fish lurking there. Although there's no hard rule, Texas Parks & Wildlife's Larry Bozka suggests fishing on the channel side when the tide is rising and on the beach side when it's falling.
Warnings
Good fishing on the jetties comes at a price: potential peril. The algae-coated rocks are slippery and uneven, so you'll need to walk slowly and in sturdy shoes when traversing them. Changing tides can quickly cover parts of the jetty with water, so keep an eye on the tides and consider wearing a life jacket even if on foot. Not many anglers on the jetties do, so think of it as a way to stand out in the crowd. The jagged rocks can quickly sink the sturdiest of boats, so only venture out in your own craft if you're a skilled pilot. The Texas sun can be brutal, so bring sunscreen and a hat whether you're on foot or in a boat.
Photo Credits
Jupiterimages/Comstock/Getty Images