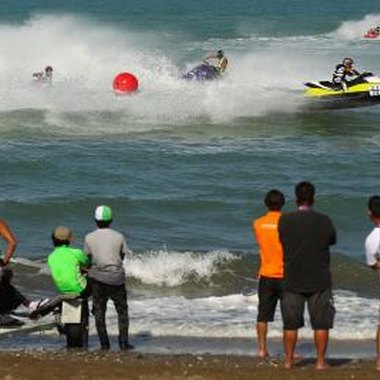 Jet skis are common beach rental tools and are considered relatively safe for the average consumer. As a result, many people who do not live in jet ski event-hosting towns would be surprised to know that competitive jet ski games even exist. In addition, the popularity of the activity has caused amateur riders and enthusiasts to make a sport of it as well.
Watercross Tour
The annual Watercross National Tour is sponsored by the Upstate Water Promotions International Jet Sports Boating Association (ijsba.com). While performing in various states, jet ski professionals compete against each other for the Super Cup, the U.S. Open Championship, the Grand Prix Championship, the Liberty Cup and the Triple Crown. Competitions include both speed races and freestyle skill acrobatics. Some states host the games every year providing that their waterways remain clear of debris and storm waste. The Super Cup competition takes place in Panama City Beach, Florida. The U.S. Open is held in Montgomery, Alabama. Racine, Wisconsin, hosts the Grand Prix skiers. The Liberty Cup races take place in Colonial Beach, Virginia, and the Triple Crown is held in the Lake Hartwell area of Georgia.
Rock the River
"Rock the River" is the climax of all watercross games where watercross tour winners compete finally for the Toyota Governor's Cup Pro Jet Ski Racing National Championship. Charleston, West Virginia, hosts the annual event, and local audiences enjoy the racing and freestyle water tricks that turn the otherwise calm waters of the Kanawha River into a fluid speedway. Skiers perform freestyle water tricks to compete for the Toyota Governors' Cup Pro Jet Ski Racing National Championship. As the final destination of the Watercross National Tour, "Rock the River" could quite possibly be the site of the most thrilling water craft acrobatics and choreographed jet skiing skills.
Thunder on the Creek
Members of the Central Ohio Boat Racing Association (no Web site) show off their jet skiing skills and love for the sport at the annual "Thunder on the Creek" beach bash. The water show takes place specifically on the North Beach of Delaware, Ohio's Alum Creek State Park. The park is north of Interstate 270 off U.S. 23. Audiences may attend free of charge while vendors sell food, beverages and beach leisure wares during the event.
Jet Ski Rallies
Jet ski rallies allow non-professional jet ski enthusiasts to have group fun and demonstrate their home grown water skills to Long Island, New York, audiences. They cut the waves of Lindenhurst's Venetian Beach until they reach Greenport Long Island. Participants do not compete with each other but turn their hobby into an one- or two-day past time complete with lunch,15-minute breaks atop waterway bridges, and professional photography services to capture the experience.
Photo Credits
Cameron Spencer/Getty Images Sport/Getty Images