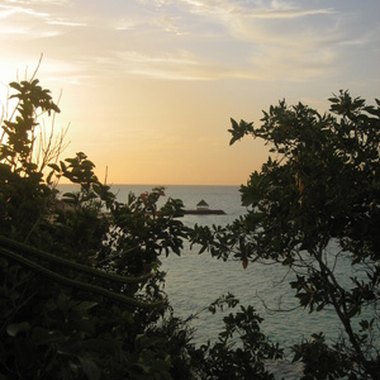 With tourism as its biggest industry and more than a million visitors every year, Jamaica presents ample lodging options to suit virtually every budget and desire, ranging from tiny bed-and-breakfasts to expansive all-inclusive resorts. Boutique resorts in Jamaica also represent a diverse range of properties that includes casual retreats in secluded spots; family-friendly, self-catering apartments; and exclusive beachfront cottages.
Island Outpost
Island Outpost is a chain of five casual but luxurious boutique resorts and nine private villas located throughout Jamaica. Two of the resorts -- the Caves in Negril and Jake's at Treasure Beach on the southwest coast -- each won a place on the coveted Conde Nast Traveler Gold List in 2010. The Caves offers 12 colorful thatched cottages, suites and villas perched on a cliff side, as well as a spa, rum and cigar bar and a restaurant offering a choice of seating in oceanfront gazebos, at the cliff's edge or in your own private candlelit cave. The distinctive architecture of the suites, villas and cottages at Jake's are inspired in equal part by Spanish architect Antonio Gaudi, the adobe dwellings of the American Southwest and the colors and patterns of Morocco and India. GoldenEye Hotel and Resort offers lagoon-front cottages and suites and an everlasting place in popular culture as the former home of James Bond creator Ian Fleming. Geejam resort covers six lush acres near Port Antonio and began life as a recording studio complex for big-name music stars. Strawberry Hill is the only Island Outpost resort not located on a beach. Instead, its handcrafted Georgian-style cottages, main house and spa sit at a cool 3,100 feet in elevation in the Blue Mountains.
Jamaica Inn
The all-suite accommodations at Jamaica Inn boast private, furnished verandas or balconies overlooking the Caribbean Sea, with a serene atmosphere ensured by an absence of televisions, radios and clocks. The resort sits along a white sand beach, where guests enjoy the shade of private palapas and the attentive service of the cocktail bar's waiters. Guests have access to complimentary snorkeling, kayaking and sailing.
Round Hill Hotel and Villas Resort
Round Hill Hotel and Villas Resort is an elegant property on a private, golden sand cove. The upscale boutique resort consists of 27 private villas and 36 guest rooms in the Ralph Lauren-designed Pineapple House. Guests may book individual suites within the villas or an entire villa with its staff. Round Hill won the titles "World's Leading Villa," "Caribbean's Leading Villa Resort" and "Jamaica's Leading Spa Resort" at the 2009 World Travel Awards, and boasts Errol Flynn and Jacqueline Kennedy Onassis among its previous guests.
Idle Awhile Resort
Idle Awhile Resort sits on a quiet stretch of Negril's famous Seven-Mile Beach. With six suites and eight guest rooms, it is a small and intimate resort offering spacious, virbrantly decorated accommodations flooded with natural light. The Chill Awhile Restaurant offers on-the-beach dining, tropical juice bar and Jamaican dishes alongside classic American fare.