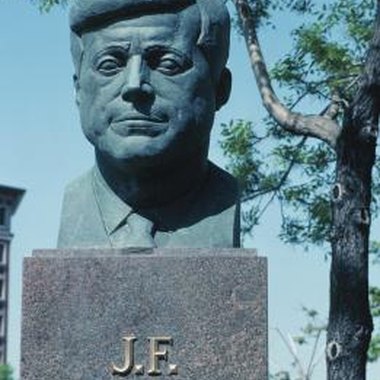 Jacqueline Bouvier was born into a wealthy New York family in 1929. She was an avid reader and an accomplished equestrian. Her parents divorced when she was 10, and Jackie learned to deal with grief quietly as she was a very private person. Her interest in public affairs led her to become a newspaper columnist and photographer for the "Washington Times-Herald." During this time her life became of public interest when she married Senator John Kennedy of Massachusetts. By 1960 she was first lady, and her husband began his fateful term as president of the United States. Jackie became one of America's most loved and influential icons.
Fine Arts Contribution
Jackie Kennedy endeavored to make the White House a real home for her children, but she also understood its worldwide significance. She made it a priority to restore the White House and created the position of White House Curator. Public rooms were restored, and examples of America's finest artwork were placed on display. Jackie conducted a televised tour of the White House and received an honorary Emmy. Her emphasis on art and culture endeared her to the world.
Fashion
Jackie had a unique sense of style -- she was refined and elegant. Magazines and newspapers put a lot of focus on what she wore, but she didn't like the attention it brought her. Other countries complimented her on her beauty, and when she traveled with the president, she often stole the spotlight. Her simple look began a standard called the "Jackie Kennedy look." Key elements of the coveted look included rounded collars, modest hemlines and shortened sleeves. She often wore pillbox and hats and long white gloves as part of her signature look.
Diplomacy
Jackie spoke several languages, including French, Italian and Spanish. She drew worldwide attention as a respected diplomatic force and managed to charm world leaders that no one else could, such as Charles de Gaulle of France and Russia's Nikita Krushchev. Jackie was never an official diplomat, but her husband's advisers realized that her tact and graciousness were assets to the nation. She and her husband represented the "New Frontier," and their youthful enthusiasm made the administration highly successful throughout the world.
Children
Jackie married Arisotle Onassis after the death of her first husband and was eventually widowed again. She spent the latter years of her life as a senior editor for Doubleday. She died of cancer in 1994 and was buried in Arlington National Cemetery beside President Kennedy. Her priority in life was always her children, and she often said if she bungled up raising them nothing else would matter. John graduated from law school and eventually went into the publishing business, founding a magazine called "George." It gave him the opportunity to air his political convictions without running for office. John died in a plane crash, along with his wife Carolyn Bessette, in 1999. Caroline Kennedy took on many of her parents' causes, graduated from law school and served as the president of the John F. Kennedy Presidential Library and Museum. Later, she established the "Profile in Courage Award" to honor elected officials who show political courage. She also inherited her mother's role as honorary chairperson of the American Ballet Theatre. She was a speaker at the 2000 Democratic National Convention and is an award-winning author. Caroline serves on several boards, including the NAACP Legal Defense and Educational Fund.
Photo Credits
Hemera Technologies/Photos.com/Getty Images