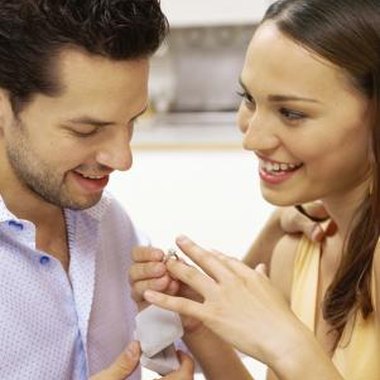 Post-engagement, many couples throughout the world celebrate with an engagement party. Engagement parties are usually less formal affairs when compared to weddings. Known for their traditions and love of celebrations, Italians have many customs surrounding engagements and weddings. However, pre-wedding party traditions differ across Italy.
Northern Italy
In northern Italy, the engagement party is not viewed as an integral part of Italian culture or tradition. Instead, it's more important for the families of the bride and groom to meet before the wedding, especially if they have never met before. This provides a time for the families to get to know each other. The gathering of the two families provides a platform to announce the engagement and express the intent for the two families to come together and share a life.
Southern Italy
In southern Italy, the announcement of an engagement is just as much cause for celebration as the wedding. A party is held for family and friends, where the couple announce their intent to marry. In the past, this traditional celebration was the time when the dowry was arranged and formal, binding contracts were created. Sealed with a kiss, this contact could only be broken through death. Today, dowries are no longer arranged, but some elements of tradition remain. For example, the engagement ring is given at the party, after which the couple kiss for good luck. The bride's father is typically responsible for the cost of the engagement party.
Luncheon
Regardless whether you choose to follow the traditions of the north or the south, the one tradition that's important in Italian culture is the meeting of the parents. At the announcement of an engagement, the mother of the bride is responsible for coordinating this meeting, which often takes the form of a luncheon, tea or coffee. Traditionally, the groom's family will show their appreciation by bringing flowers to the bride's family on the day of the luncheon.
Other Traditions and Parties
Today, in southern Italy, it's still customary for the groom to first gain permission from the bride's father or family before proposing marriage to his sweetheart. In other parts of Italy, the couple will get engaged and then announce the news to their parents. Other engagement traditions include bachelor parties, which date as far back as the Spartans. Men would spend time with their friends five to six days before the wedding, drinking, eating and gambling. It was not traditional for women to have bachelorette parties. This is an American creation that came about in the 1970s. Today, however, many Italian women have such parties. Italian bachelor and bachelorette parties both typically end with a toast for good luck.
Photo Credits
Stockbyte/Stockbyte/Getty Images