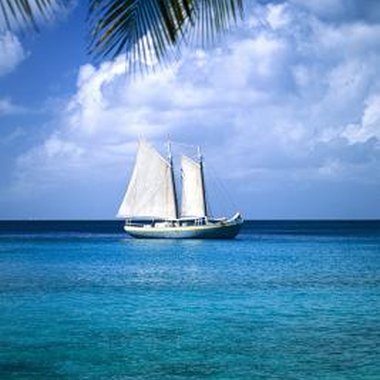 A nautical theme will add a magical element to your child's birthday party. Before planning your party invitations, decide what type of party you want to have. Your nautical theme might incorporate a mermaid princess or pirate motif, a backyard clambake or a beachside design . Invitations may be simple or elaborate, handmade or purchased.
Wording
When writing the wording for your nautical-themed party invitations, think about the sea. Start by writing down every word or phrase that you can think of that is related to the ocean. Phrases like "All aboard," "Ships ahoy" and "Anchors away" can be incorporated into your invitations. Consult a thesaurus for synonyms. Your party may use a slogan like "Pirates Only" or "Seaside Celebration." You can make your invitations comedic by calling your invitees "matey," "shipmate" or "scallywag." You might declare they will have to "walk the plank" if they do not RSVP by the deadline or do not wear the required nautical attire. After you decide on the wording, consider how the words will be written. You might consider a bubbly font or wavy words.
Design
Your child may enjoy helping you design the invitations. Decorations may include a lighthouse, yacht, fisherman's knot, mermaids, pirates, cartoonish lobsters, sand castles, pails, shovels or seashells. There are many paper styles to choose from like colored, textured, or homemade. Glue seashells, sand and glitter to homemade invitations for a sparkly effect.
Little Extras
Before sealing invitation envelopes, consider adding little extras like sand or tiny seashells for a nautical confetti effect. You can also tie the invitation, RSVP card and return envelope together with twisted rope ribbon. Ask your post office if they sell nautical-themed stamps to give extra décor to the envelope.
Get Creative
Invitations do not have to be two-dimensional. Get creative and make invitations children can keep as keepsakes. Create a scroll with parchment paper, roll it into a tube and fasten with rope. Place scrolls in tube mailing boxes or have your child hand deliver invitations placed in plastic water bottles. Fill the bottle with sand and seashells. Send invitees a treasure chest invitation. Place invitations inside small treasure chests. You can find small treasure chests in most party supply or craft stores. Pile sand, seashells and plastic jewels and coins on top of the invitation. Have your child decorate the outside of the treasure chest with markers or paint. Children will find their invites underneath the treasure.
Photo Credits
Brand X Pictures/Brand X Pictures/Getty Images