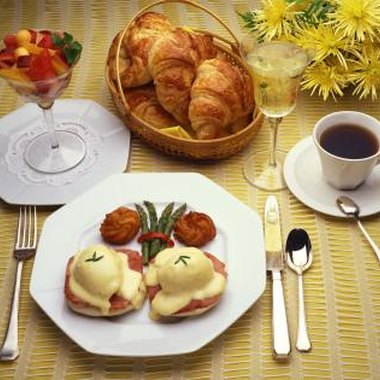 A day-after-wedding brunch has become more popular in recent years. While this new wedding tradition hasn't yet made it into the mandatory wedding rules and etiquette books, it does serve a nice function. It allows bride and groom and company a chance to connect one more time before heading off on separate paths.
Considerations
Currently, no steadfast rule exists that says who hosts this affair. Normally, it's a family member or close friend. Some couples like to send the invitation to the day after brunch along with the wedding invitation. This plans works best if you'd like an RSVP to both events. It's also OK to offer a verbal invite to people on the day of the wedding. Finally, if you plan on a no-host day after party at a local restaurant, let people know that in the invite so they know they must pay for their own meal.
Address the Particulars
The day-after-brunch invitation provides you with a means to convey important information about this event. Some couples open their wedding gifts during the brunch. If you plan to do that, let people know. Also include information about where and when you'll have it, if it's buffet style and the dress code. Most of these affairs are casual, so let people know they can wear slacks or a cotton skirt.
Design
If you plan on sending a day-after-brunch invitation along with the wedding invitation, try to tie the two pieces of mail together from a visual standpoint. While you don't want to make it a carbon copy of the wedding invitation so that it causes confusion, do use similar elements. For example, if your wedding colors are pink and gray, and you've chosen gray card stock for the wedding invitation, try out a pink card stock or stationery for the after-wedding brunch invitations. Use the same fonts and repeat any graphic elements ,such as a fleur-di-lis pattern. This provides visual consistency between the two invitations.
Wording
The wording on the invitation for the post-wedding day brunch can reflect the casual nature of the get together. Some people hosting the brunch opt for a funny, rhyming style for their wording while others are straight and to the point. While both are acceptable, you may want to consider adding a little humor here. It will make the day-after-brunch invitation stand out from the wedding invitation.
Photo Credits
Jupiterimages/Comstock/Getty Images