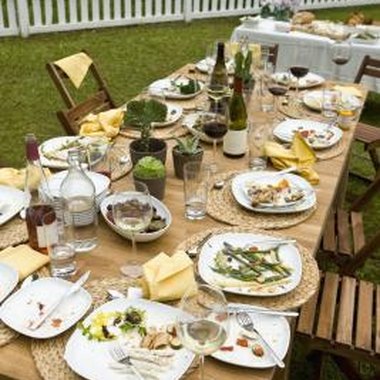 The invitations you send out for a party are the first thing your guests see. The invitation sets the tone for the event and gives guests an indication of the party theme or what to expect at the party. When throwing a birthday dinner, you want the invitations to have a universal appeal and make your guests excited about coming to the party.
Place Setting Invitations
Place setting invitations show guests that you're throwing a birthday dinner party in a unique way. Make your own from one piece of silver cardstock or a color of your choosing. Cut a small rectangle of the cardstock for each invitation and fold it in half lengthwise to make a tent. Cut a small circle from a contrasting color of cardstock and glue it in the center of one side of the tent to symbolize a plate. Cut a small rectangle or triangle to symbolize a napkin and glue it to one side of the circle or on top of it. Cut a fork and spoon shape from more paper and glue one on either side of the plate. Write "You're cordially invited" on the front of the card and the details of the party inside the fold. Send to each of your guests.
Three-Dimensional Ideas
Treat your guests to a souvenir of the night before it even happens. Buy inexpensive wine glasses or champagne glasses. Fill the glasses with shredded tissue paper. Write the details of your party on small pieces of white or silver cardstock. Punch a hole in the end of each piece and loop pieces of ribbon through the cards; tie the ribbons around the stems of the glasses. Curl the ends of the ribbons with your scissors for a festive look. These are invitations you'll probably want to hand deliver rather than mail.
Odd-Shaped Invitations
For an informal get-together or relaxed dinner for a birthday, send guests invitations shaped like the main dish. For example, make invitations shaped like pigs for a backyard barbecue, or decorate a card to look like a platter of spaghetti and meatballs for an Italian-inspired party. Keep the front of the invitations simple, with just the decorative image, and write the details inside the card.
Simple Invites
You can never go wrong with simple invitations. Use plain invitations and write your own phrases on the inside and outside. "Raise a glass and celebrate with us" is one idea for wording the front of the card. Use the inside of the card to list the date, location and time of the dinner. List any special information inside, such as asking guests to bring a bottle of wine for the birthday boy or girl.
Photo Credits
Thomas Jackson/Lifesize/Getty Images