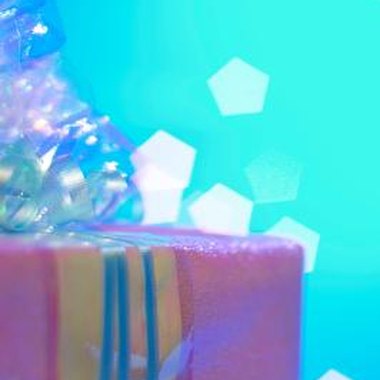 Birthday parties are exciting for teenagers as they're a time when all their friends and family come together to celebrate them. And really, as a teen, what's better than that? Teenagers' birthday parties may have themes, may be sleepovers, or may just feature cake and punch. But whatever you're planning for your teen, your invitation should be worded so your guests know what to expect.
Family Party
Whether you're hosting a party for a 13-year-old or an 18-year-old, it is always important to include family or have a party separate from a party to which your teen invites all of her friends. Word your invitation similar to the following example: "Hey family! Come celebrate Sarah's 14th birthday with an afternoon barbecue on January 1. Bring a dish to share and hang out in our backyard until teen girls descend on the house to party into the wee hours. Party starts at 1 p.m.!"
Sleepover Party
Teens, especially girls, enjoy having a handful of their closest friends over to celebrate their birthday by watching movies, eating pizza and junk food, and playing Truth or Dare and other games until the sun comes up. Word your invitation to your friends in the following manner: "Come to Janie's house Saturday, January 1, at 7 p.m. for a night of girl talk, games and movies. Food and pop will be provided, but feel free to bring your own. And don't forget your sleeping bag!" Include a time for the teens' parents to pick them up the next morning if the teens are too young to drive themselves.
Theme Parties
Theme parties can be fun for family and for friends of your teen. Host a casino party, complete with roulette and poker tables, and design your invitation with a Las Vegas theme, which will include lots of neon colors. Wording for your invitation could be "Come try your luck at the Route 66 Casino at Mike's house on January 1. The Casino will be open from 6 p.m. to midnight. Your money's no good here, but bring some candy to place your bets. Chocolate is worth more than jelly beans!"
Surprise Party
Surprise your teen by throwing a party with his best friends. Plan an afternoon of paintball or Laser Tag, but pretend you're taking him to see his grandma. Invitations should be pretty stealthy, so be sure you include the word "surprise" or "secret" a few times to get your point across. "Surprise Eric at the paintball field on Saturday, January 1, at 2 p.m. This party needs to be kept a secret, so if he asks, tell him you're busy with your family on Saturday." Make sure your guests know the event is paid for so they won't have to worry about the cost when they get there.
Photo Credits
Hemera Technologies/AbleStock.com/Getty Images