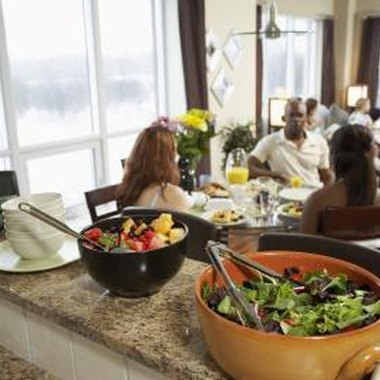 Whether you're planning a potluck for your colleagues or want to make this year's holiday dinner easier on your relatives, the invitations you send should be informative, yet catchy enough to get everyone excited about attending the event. Wording can be theme-specific, or you can include an entertaining verse or two that will make the potluck invitation a keepsake.
Rhyming Invitations
Make the potluck invitations festive by including a short rhyme at the beginning of the document like, "It's our favorite time of year. The annual Halloween potluck is here!" Choose black or orange invitation stock paper and adorn the invites with small stickers in the shape of pumpkins or other fall foods like apples and cranberries. Or, create a birthday potluck invite that begins with the words, "Prepare your best dish -- it's (guest of honor)'s birthday wish!"
Food-Specific Invitations
Keep in mind that a potluck can include one type of fare, like dessert or vegetarian dishes. Begin the invitation with something like, "Let's have a Merry Veggie Christmas! Bring your favorite vegan or vegetarian dishes for all to sample." Or, start the invite with, "It's Christmas cookie time! You and your favorite confection are invited to a holiday dessert potluck."
Guest-Specific Invitations
If you're having a small potluck with close family friends and relatives, make each invitation specific to the guests so everyone knows what they're bringing to the celebration. For instance, start all the invitations with "Ole! We're having a Mexican potluck fiesta!" Add a personalized element to the end of the invite like, "Could you bring some of your famous black beans and rice? Everyone loves it!" or, "It won't be a party without the delicious Mexican cornbread you make. Could you bring some to the party?"
Themed Invitations
Use the time of year the potluck will take place as the theme for the invitation. For instance, if you're hosting a Thanksgiving potluck at your home for friends and loved ones, say something like, "Let's create a new tradition! Bring your favorite Thanksgiving side dish to potluck. I'll provide the turkey and some fun party games!" Ask each guest to RSVP at least a week before the party to let you know what they're bringing to the celebration so you can make sure there aren't too many duplicates.
Photo Credits
Jupiterimages/Photos.com/Getty Images