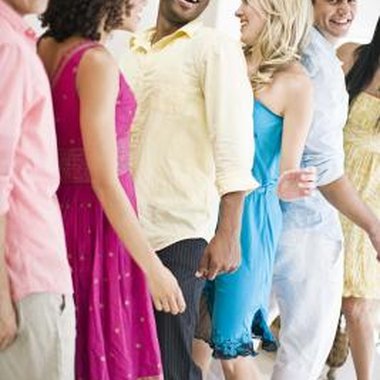 Saying goodbye is never an easy thing to do, but you can help make it special by throwing a farewell party. The invitations you send are the first step in getting people to the party, so make sure that they create excitement and relate the theme and style of the event.
Main Idea
Include information on the front of the invitation that lets your guests know why you're having the party. Examples of wording for the main idea of the event include "You're Invited to Celebrate [Insert Name's] Last Party in Town" or "Help Wish [Insert Name] a Fond Farewell." This portion of the invitation should be simple and convey the reason that you are sending an invitation in the first place.
Details
Underneath the main idea, on the back or inside, the invite should contain the details of the goodbye party. This should be worded simply, with the main information easy to read and understand. Include the place, date, time and contact information for RSVPs. The wording for this section can be simple and in a list format. For example, "Join us at Bob's Restaurant for Dinner, Drinks and Goodbyes. March 23rd from 5 to 7. Contact Marsha to RSVP at (000) 000-0000."
Fun Additions
Include additions that convey the theme of the party. This includes any information on what to wear, what to bring or what to expect at the party and should occur in the invitation after the detailed information about when and where. For example, "Dress in beach attire, including bathing suits, to bonfire the night away." or "Dress is casual. Bring a potluck dish to help send off our dear friend picnic-style. "
Other Ideas
Make sure to let guests know any special details about the party such as whether it is a surprise and whether to bring a gift. If there is anything happening at the party, such as live music, let guests know that as well. Once again, keep the wording simple to make it easily understandable. "Show up before 6 to surprise [Insert Name] with her going-away party. She will be arriving at 6:30." or "The band begins at 7:30 so don't forget your dancing shoes."
Photo Credits
Jupiterimages/Brand X Pictures/Getty Images