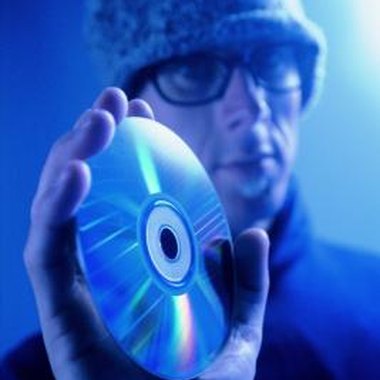 An entertainment shower provides a great option to replace the traditional home and hearth style bridal showers of the past. Many engaged couples have all the household items they need to run a successful home. Entertainment showers require the guests to bring items of enjoyment such as video games, movies, books and CDs.
Humorous Entertainment Showers
Humorous invitations can include song quotes or parodies, or jokes about the bride or couple. It can even be worded from the point of view of the bride's child or pet. It must include the bride's name, the date of the shower, the time and place, and the type of shower. It might also list the types of entertainment items the bride and groom prefer -- if they're book lovers and rarely watch movies, for example, this should be listed. An example of humorous wording might be, "Check us out as we celebrate the binding of these two book nerds, Bride and Groom, together."
Musically Themed Entertainment Showers
If the couple are avid music lovers, CDs of their favorite artists might be the only allowed shower gifts. The venue might also be a music club or concert hall. Wording for this type of shower should contain musical references and can specifically state what the entertainment gifts should be. An invitation might read, "Join us on the dance floor as we rock the house to celebrate the upcoming lifelong dance partnership of Bride and Groom, Friday night at 8 p.m. Smokey Joe's Dance Barn. This is a musical gathering and all gifts should be in the form of CDs and MP3s."
Movie Themed Entertainment Showers
Movie themed showers can encompass everything from movie posters on the walls, to dressing in favorite movie costumes. Each guest may be required to bring a DVD or Blue-Ray disc to gain entrance. Wording for a movie themed entertainment shower may make puns about movies or be themed to a specific movie. An invitation to a 1920s movie entertainment shower might read, "Hey guys and gals, join us as we celebrate the upcoming marriage of this swell gal, Bride, to that fine fellow, Groom, on Saturday the 8th at the Town Hall Speakeasy. Liquor is prohibited. All guests are required to bring a movie about the 1920s as a gift to the engaged couple."
Couple Themed Entertainment Showers
Couple entertainment showers aren't just for the bride. The groom is also celebrated, and his friends and family invited. Guests should bring gifts that cater to both the bride and groom's interests. The invitation should list both the bride and groom's names, the venue, date and time and the pastimes in which both the bride and groom are interested. Ideally, the invitation should list pursuits the couple enjoys together such as watching a certain genre of movies. Wording can be either formal or informal on these types of invitations.
Photo Credits
Thinkstock Images/Comstock/Getty Images