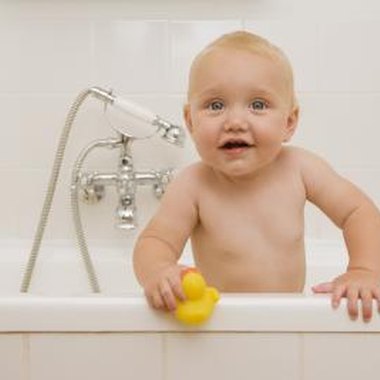 If you are planning on throwing a baby shower with a ducky theme, there are plenty of creative ways to incorporate adorable ducks. Invitations with ducks are good for baby boys and baby girls. Along with including the basic information such as time of the shower, the address of the venue and the host's name, ducky invites can have fun and punchy wording to add to your theme.
Rhyming Text
Get creative with baby shower invitations that rhyme. The opening wording of your invitation could read "Rubber ducky, you're the one, Who makes bath time tons of fun! Swim on over for Mary's Baby Shower Celebration." Another catchy rhyme that you could use is "Isn't Samantha lucky? Having a baby is just ducky!" Following a short rhyme, mention all the pertinent shower information. Don't forget to let guests know the time, date and location of the shower.
Gender Specific
If you know the gender of the baby, and wish to share it with guests, have fun including it in the wording on your invitations. One idea for a little boy is: "Little ducks, fuzzy and yellow, is the theme we've chosen to welcome a special fellow." Other ideas that could work for a boy or girl include: "She's having a boy/girl, isn't that lucky? We all think boys/girls are ducky!," "A baby girl/boy is on the way, let's celebrate the ducky way, Waddle on over to Amy's Shower!" or "Let's shower our lucky duck with love before the arrival of her little girl/boy."
Gender Neutral
If the parents have chosen not to find out the gender of the baby, there are still many cute ways to word the invitations. "Rub-a-dub-dub, soon there will be a new duck in the tub!" and "A baby duck is on the way, join us to celebrate before the big day" are two ideas to get your creative juices flowing. You could also say something like "A boy or a girl? Either one would be ducky! Join us to celebrate the arrival of a new baby." Another cute idea for a gender neutral invite is this little rhyme: "A splash of water and hint of color, we're celebrating baby with a rubber duck shower."
Poems
Folded card style invitations have plenty of room for longer rhymes or poems on the front, and all the shower details can be included on the inside. A poem like the one below is written especially for baby showers: "The little rubber ducky He is so cute and fluffy And we're using him to celebrate A little baby warm and cuddly. The duck will be the main theme Everything will be yellow and blue And bring a gift along for mom But most of all, bring you." Or, you could choose a poem related to ducks such as "Duck" by Meish Goldish.
Resources
Photo Credits
Jupiterimages/Pixland/Getty Images