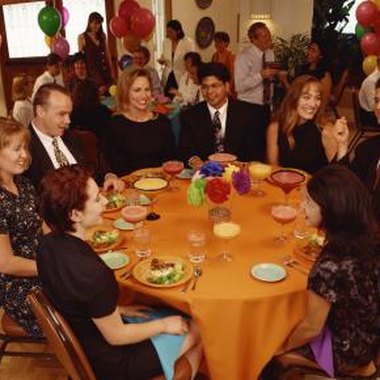 Receptions help business employees build beneficial relationships with co-workers. When composing a business reception invitation, clarify the purpose of the meeting and select a time and location accordingly. Consider breakfast meetings for working group sessions where brainstorming and problem-solving is necessary. Set a lunch reception for events you want to limit to employees only; invite workers and their guests to a leisurely or celebratory reception. Choose a method of delivery for the reception invitation that fits the setting and purpose of the meeting. After making these decisions, you're ready to compose the wording.
Opening Line
Announce the purpose of the event in one, succinct line at the opening of the invitation. Center justify that line on printed invitations or write it in the subject line of an e-mail invitation. For example, if you're planning a brainstorming or problem-solving reception with co-workers that are part of a team or work unit, fill in the subject line of your e-mail invite as "Brainstorming Breakfast This Tuesday at 8 a.m. in the Cafeteria." If you want to honor your team's work by reaching a project milestone, for instance, send a paper invitation with a centered opening line that says, "You're Invited to a Thank You Lunch for Team Blue Line." If you're planning a retirement dinner or company gala for workers and their guests, open a formal paper invitation with the title of the celebratory reception centered at the top of the invite. Write "Celebrating Mary Smith's Retirement," for example, or "Wubber Enterprise's 25th Anniversary Gala" as your invitation opening. Let your guests know immediately the event to which they're being invited to grab their interest and keep them reading further for details.
Body Copy
Compose two to three lines in the body of the invite that mention the names of individuals or group of individuals being honored at the reception. Informal breakfast or lunch reception invites sent over email can jump immediately into the purpose of the reception in the body of the email. The body of a brainstorming session email invite, for instance, can start casually with, "Some of the best ideas happen over breakfast. Let's brainstorm ways to solve our recent programming issues together." For instance, if your event is semiformal and includes employees from various management levels, such as welcoming a new hire class to your company after the completion of the group's initial training, open a paper or email invitation with "Welcome our newest employees to Vector Engineering. Make your presence known and show them you welcome them to the team over a brief buffet reception." If you are honoring someone who is retiring after the end of a long and loyal career with a formal dinner reception, start the body copy of the invite with complimentary remarks about the person's service to the company.
Event Details
Follow the two to three sentences of body copy with the event details. Tell guests where the reception is being held. Include the address if the reception is being held at an off-site location. Mention the date and time as well as an RSVP date and contact email address, if reservations are needed in advance. Mention dress standards if something other than standard work clothes are required. For example, if your factory is holding a dinner reception at an upscale steakhouse, mention that a "Suit or cocktail dress is required" on the invitation so that employees and their guests, if applicable, know how to dress for the event.
Layout
Lay out your invitation to a retirement, welcoming lunch, annual meeting or performance ceremony in a clean, easy-to-read manner. Save costs by sending your invitations over email as opposed to printing paper invites. If you want to stick with paper because email is impractical, print your invites on a single piece of card stock that measures 4 by 5 inches so that you can cut four invites out of one piece of 8-by-10-inch card stock. Use a font that is legible like Arial or Times New Roman. Limit the wording to 15 lines or less.
References
Photo Credits
Jupiterimages/Comstock/Getty Images