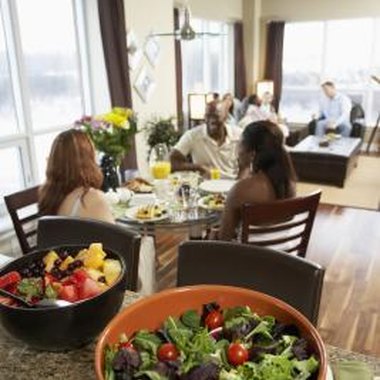 Some hosts and hostesses find it awkward to ask guests to bring items to a party and will instead try to provide all of the food and drinks for the gathering themselves. For those putting on a large event or who throw a lot of parties, entertaining can end up being very costly. In actuality, many guests don't mind bringing an item to a party, especially when asked to do so with the correct wording in the invitation.
Food Dishes for a Smaller Gathering
To ask your guests to bring food to your gathering, use wording at the end of your invitation similar to this, "We kindly request that you bring a dish to share with the other guests" or "Please bring a dish that is enough to share with XX number of people." If you plan on providing most of the food but would like guests to provide specific items, choose wording similar to this, "We will be providing the main course and drinks but are asking guests to bring a dessert or appetizer to share."
Food Dishes for a Large Event
Organizers of big events, such as those that might be held by a church congregation or for a large, multi-generation family reunion, will often ask each guest to provide a dish for the gathering. To avoid having too many of one type of dish, some event organizers will divide the food requests up by some artificial means. For instance, you can write, "We are requesting that each family please bring a food item to share. If your last name is from A to F, please bring an appetizer. If your last name begins with G to M, please bring a casserole. If your last name begins with N to S, please bring a salad. If your last name begins with T to Z, please bring a dessert."
Sharing parties
Some parties, such as cookie exchanges, are designed for sharing items with other guests. Other events, such as an important family reunion, are a good excuse for sharing things. For these types of parties, specify at the end of the invitation, exactly what you would like each guest to bring. For a cookie exchange party, for example, add wording similar to this, "Please bring three dozen of your favorite cookies, along with copies of the recipe, to share with everyone." For a family reunion, you may want to ask guests something similar to the following, "Generations have enjoyed the Smith family food. Let's keep the traditions going. Please bring a family favorite dish you enjoyed eating growing up, along with copies of the recipe to share with all of your relatives."
Gifts
If you are a hosting a party for another person and have a specific type of gift you would like for them to receive, make a specific mention at the end of the invitation. For a lingerie bridal shower, for instance add wording that is cute and sassy such as, "Whether frilly and white, or colorful and bright, please choose some lingerie for Stacy's wedding night." However, don't ask for gifts of money or gift cards, as this is considered poor etiquette.
Alcohol
Alcohol is expensive, so it is not uncommon for party invitations to ask guests to bring their own spirits. One of the most common, but very informal, ways to do so is to add BYOB, or Bring Your Own Beer, at the bottom of the invitation. A more polite way of asking guests to bring alcohol is to give guests an idea of what types of beverages will be available and then ask them to bring others, if they so desire. Wording such as, "We will be providing sodas, water and beer. If you have a wine you particularly enjoy and would like to share with others, we would welcome its addition."
Photo Credits
Jupiterimages/Photos.com/Getty Images