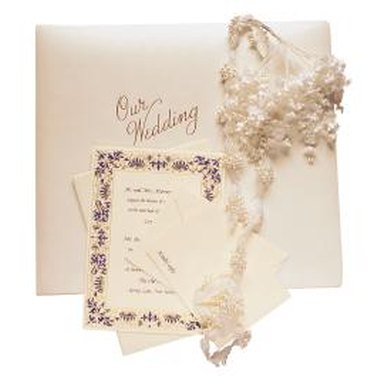 If you are engaged and hosting your wedding yourself, there are still plenty of guidelines to follow to incorporate a traditional or casual style into your wedding ceremony and reception. If you're hosting your wedding as a couple instead of one or more sets of parents hosting the big event, your wedding invitations should reflect that. Before ordering your invitations, find out the proper way to express just who the wedding hosts are.
Formal Couple Hosting
The first thing for you to decide as a couple hosting your own wedding is whether your style is formal or casual. This choice will probably be reflected in the other aspects of the ceremony, including location, flowers and reception choices. Since a parent is not hosting your wedding, you skip the host line and begin with the request line, carrying formal wording throughout: "The honor of your presence / is requested at the marriage of / Grace Ann Smith / to John Quincy Doe / Saturday, the 12th of September / at two o'clock in the afternoon / St. James Church / San Diego, California / Reception to follow."
Casual Couple Hosting
If you desire a more casual wedding, make sure you express it with your invitations, as it will alert guests to what type of wedding they should expect. Leave off the host and request lines, starting your invitation simply as: "Grace Ann Smith and / John Quincy Doe / invite you to their wedding / Saturday, September 12, 2011 / at 2:00 in the afternoon." Change the request line as desired from "invite you to their wedding" to an alternate phrase, if desired such as "invite you to watch them get hitched" or "invite you to celebrate at their wedding."
Modern Format
Where etiquette is concerned, a modern wedding invitation combines the formality of a traditional wedding invitation's spelling out of dates and times with fanciful wording that expresses a couple's love for one another. Consider something like: "We invite you to join us / in celebrating our love. / On this day we will marry the one / we laugh with, live for, dream with, love. / We have chosen to continue / our growth through marriage. / Please join / Grace Ann Smith / and / John Quincy Doe / Saturday, the 12th of September / two thousand and eleven / at two o'clock / The Rustic Inn on State Street / San Diego, California." If you are creative and enjoy poetry, you can write your own modern wedding invitation in the form of a rhyming poem.
The Reply Card
Traditional wedding invitations include a reply card and a stamped envelope so that guests can tell you if they can attend your wedding. When the couple issues the invitation themselves, the envelope should be imprinted with the bride's name and address, such as: Grace Ann Smith / 11111 Pacific Ocean Viewpoint Drive / San Diego, California 92113.
Photo Credits
Comstock/Comstock/Getty Images