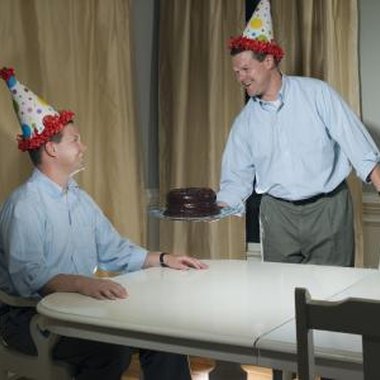 Maybe you have twins, or enjoy that rare coincidence where two children born years apart share the same birthday. In any case, you may find yourself having to draft an invitation for a joint sibling birthday party. You have some decisions to make. Clarify whether guests are expected to bring a gift for both or each individual honoree. You may want to request that guests only bring gifts that can enjoyed in a group, or by both siblings together. These practical decisions are secondary to the importance of communicating to guests that the party is for both siblings, so that nobody gets their feelings hurt and confusion is kept to a minimum.
Make the Invitation Clear
Making sure your invitation is clear should be a top priority. At the beginning of the invitation, state the reason for the party, and in whose honor the party is being thrown. "Join us for a rollerskating extravaganza to celebrate Joe and Jim's 11th birthdays!" "You're invited to come celebrate Joanna's and Kim's birthdays!" "Come join the fun as we host one big party for two special siblings!"
Communicate the Date, Time, and Location
The event details and R.S.V.P. instructions should directly follow the invitation line in an easy-to-follow format. "When: Saturday, June 11, 3:00-7:00 PM "Where: Roll On America rollerskating rink "What to Bring: Thick socks and a positive attitude! "Please RSVP via email at grangers@home.net or at 555-555-1234 by June 1."
Make Your Gift-Giving Policy Clear
In the case of joint birthday parties, most of your guests will wonder whether they are expected to bring a gift for each sibling. It's usually considered poor manners to mention gifts in an invitation, and it's always rude to solicit gifts, but in this case, you can make an exception. If you want both siblings to receive gifts, do not mention gifts on the invitation; most guests will play it safe and bring a gift for each. To cut down on guests' financial burden, state that giving gifts is not necessary, or that a joint or family gift would be welcome, such as a board game. Alternatively, you can institute a no-gifts policy, and offer guests the chance to donate to a charity of your choice in the siblings' honor. "If you are so moved, a joint gift would be most appreciated. Please don't feel the need to bring individual gifts for the twins!" "Please, no gifts. If you are so inclined, donations are being accepted in Joe and Billy's name at the Charitable Charity in Akron. Please email donations@charitablecharity.org if you would like to give, and indicate Joe and Billy's name in the subject line of your message. Thank you!"
Invitation Accessibility
Make sure your invitation is accessible. In addition to circulating hard copy invitations via regular mail, consider inviting Facebook friends to a private group or event posting so that those who are not invited cannot invite themselves or be hurt that they were excluded.
Photo Credits
D. Anschutz/Digital Vision/Getty Images