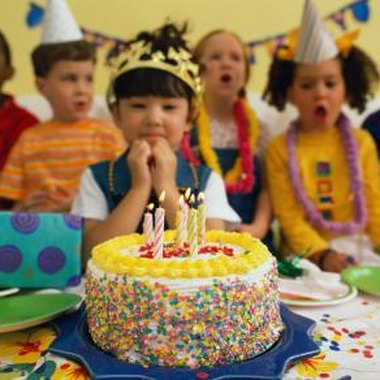 Invitations set the tone for a child's birthday party. You want the wording to be entertaining, clear and memorable. Of course you'll include the birthday child's name and the date, time and location for the party, contact information and an RSVP deadline. If there's a dress code or an item your guests should bring, you can include it with the rest of the information. But to make the invitation the best it can be, key the wording you use to the party's theme.
Sports Theme
For a sports-themed party, for example, you can start with an invitation in a shape appropriate for the theme. If it's a football party, send an invitation in the shape of a football. Write "Come score a touchdown with (birthday child's name) at his football party. Kickoff is at (time of party) on (date). We'll be partying in the end zone at (location)!" For a basketball party, send paper basketballs. On them you can write "We'll be shooting three-pointers at (birthday child's) birthday party. Tip-off is at (time) on (date) at (location) Stadium. Help us cheer on the birthday boy!"
Princess Theme
If you have a little girl who's chosen to celebrate her birthday party like a princess, try cutting out crowns and decorating them with sparkles and jewels. If she's old enough, she can help. A festive wording for this type of invitation can be "It's a royal birthday party for (birthday girl's name). Join Her Majesty on (date) for an afternoon befitting of royalty at the (location) castle. The ball begins at (time)." Another idea for a princess-themed birthday party invitation is "Hear ye, hear ye! You're invited to a birthday ball to honor Princess (birthday girl's name). The royal gala commences at (time) on (date). The festivities will take place at the (location) Palace!"
Train Theme
Trains are a hit for many birthday parties. Use clever railroad lingo when crafting invitations to a train-themed birthday party. One suggestion is "Toot toot! It's Engineer (birthday child's name) birthday party! Climb aboard at (location) Station at (time) on (date)." For another way to write a train-themed birthday invite, try "All aboard!" It's (birthday child's name)'s birthday. This is your ticket to fun! The party starts when the whistle blows at (time) on (date), so don't be late! Station location: (location)."
Pool Party
Pool parties are always a hit with kids. An appropriate invite can be shaped like a beach towel or a beach ball. Have fun with the wording: "Come have a splash with (birthday girl) as she celebrates her (age) birthday! Dive right in for some birthday fun at (location) on (date) at (time). Get your suits and goggles ready to take the plunge and celebrate our birthday girl!"
Photo Credits
Ryan McVay/Photodisc/Getty Images