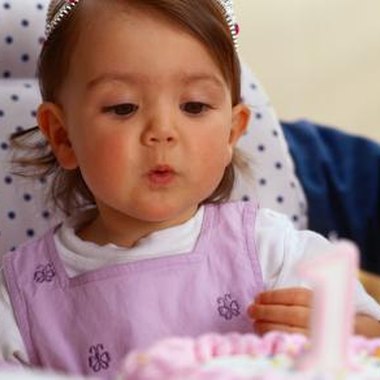 Your baby is turning 1-year-old soon, and you'll want the invitations to be just as special as your little one. Cards that showcase some of the milestones your baby has achieved in his first year of life, or an invitation that coordinates with the decor in the guest of honor's room are fitting. Bright colors and accents that make the invitation visually appealing will get guests excited about the event as well.
Shaped Invitations
Use a stencil and paper cutter to create first birthday invitations in the shape of the number one, or the first initial of your baby's name. Create an invitation in the shape of a sippy cup to show that your little one no longer drinks from a bottle, or shape invites that look like large bibs to indicate that the celebration will feature some of your baby's favorite snacks. Alternatively, purchase invitations in the shape of your child's favorite cartoon or children's show character.
Picture Backdrop Invitations
Select a meaningful photo of your baby as the backdrop for her first birthday invitation. A photo of the first time your infant smiled is fitting, or a picture of your little one crawling or feeding herself. Your baby's ultrasound photo is a picture backdrop that holds sentimental value and is a fitting gateway to mention that you can't believe a year has gone by. A snapshot of your baby being held by a sibling or grandparents makes a picturesque birthday invitation as well.
Decor-Themed Invitations
Create first birthday invitations that coordinate with the decorations you've included in your little one's bedroom, such as an invitation in the likeness of a teddy bear or sailboat. Or send guests invitations that feature animal-print borders, such as zebras, cheetahs or giraffes, if your child's nursery has a safari theme. An invitation with a background of stripes, polka dots or paisley print that matches the wallpaper borders in his room is fitting as well, or you can simply choose invitations in the same color scheme as your baby's bedroom, such as invitation paper in pastel shades like yellow or pink, or primary colors like red or blue.
"Milestone" Invitations
Create an invitation that displays one of the things your baby has learned to do in her first year of life. For instance, choose invitations in the shape of a shoe to indicate that your 1-year-old has learned to walk. An invitation with a border of fruits, such as bananas or apple slices, will show some of the solid foods your baby has come to love. Or create an invitation front shaped like two hands that open to reveal the party information inside, to signify that your 1-year-old has learned how to play peek-a-boo.
Photo Credits
Ryan McVay/Photodisc/Getty Images