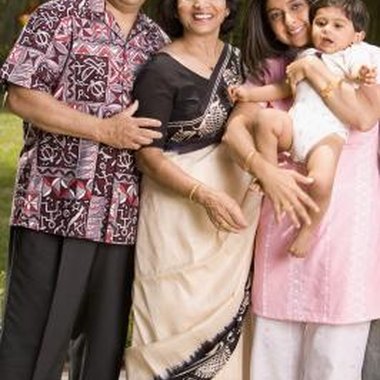 Each family puts its own spin on the traditional naamkaran, or baby-naming ceremony. Though the event is steeped in religious and cultural significance, the ceremony itself can take place at a home or temple. It can be a large celebration or an intimate moment with close family and friends, but parents, grandparents and aunts and uncles are traditionally included. The way you invite people will set the tone for your naamkaran.
Face-to-Face Invitations
The news of an upcoming naming ceremony traditionally was spread mostly by word of mouth. Ask people away from a large crowd and include the date, time and location of the ceremony. In some ways, this method is more personal, not to mention affordable, than a traditional invite. It also allows guests to ask you questions directly about the ceremony, which may be particularly beneficial if you are including people who may not be familiar with Indian or Hindu traditions.
Electronic Invitations
It's very possible that you have more email addresses than street addresses for many of your friends. Electronic invitations give people a concrete reference at little or no cost. You can design them at many websites or just create a well-formatted email. Besides the name of the baby, date, time and location, include information about gifts, food and dress. Guests can RSVP through a built-in response system or by simply replying to the email.
Formal Mailed Invitations
For a more traditional ceremony, use mailed invitations. Open with "(Parents' names) cordially invite you to a naamkaran." Include the date, time and location, along with the baby's name. If you don't include a reply card, give a phone number so guests can RSVP. You can have the invitations professionally printed or purchase paper from a specialty shop to create them yourselves. However, if you're adhering to the tradition of having the ceremony 12 days after the birth, be prepared to print and send them almost immediately so that long-distance relatives can attend.
Photo Invitations
These invitations can be done either on the computer or mailed out. It may be easier to accomplish if your ceremony is more than 12 days after the birth of the baby. Print or scan a 4x6 photo of your new baby, then add text inviting people to the naming ceremony. This can be a special keepsake for friends and family. It is easily displayed on a fridge or bulletin board as a reminder of the big day to come.
Photo Credits
Medioimages/Photodisc/Valueline/Getty Images