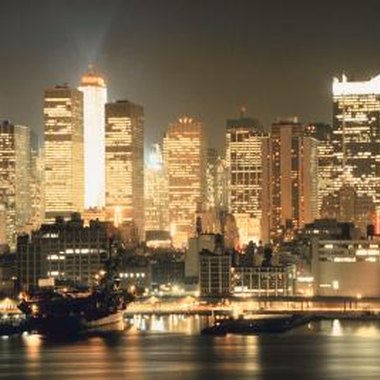 Manhattan is one of the five boroughs that comprise New York City. Situated on a large island, Manhattan's imposing skyscrapers and vibrant night life make it a cultural capital of America. Living in Manhattan is expensive, and residents naturally demand quality services. Several Internet service providers do business in New York City; choosing the best one for your situation means doing some research.
Verizon
Verizon offers high-speed Internet using DSL technology. Consumers can choose from several packages with speeds ranging up to 15 Mbps. Every package comes with nine email accounts, 24/7 technical support, free security software and a generous amount of personal web space. For a small monthly fee, Verizon can back up your personal data files, protecting them in the event of hardware malfunction or disaster. Consumers who need more speed can subscribe to Verizon's FiOS, a fiber-optic cable network offering speeds up to 50 Mbps.
Time Warner Cable
Road Runner cable Internet from Time Warner advertises download speeds of 15 Mbps for the Turbo package, enough speed for typical users. Time Warner also offers discounts to customers who bundle their Internet service with cable television. Online backup and a free security software suite are available to new subscribers. For power users, Time Warner provides Wideband technology with speeds topping out at 50 Mbps. No additional equipment or installation is necessary for Wideband access.
RCN D.C. Metro
Some of the larger buildings in Manhattan have deals with RCN D.C. Metro, a telecommunications company based in Washington, D.C. RCN sells cable Internet packages at speeds of 5, 15, 25 and 60 Mbps. At 60 Mbps, users can build a robust home network capable of online gaming, HD movie streaming and large file downloads. RCN includes a free wireless router for new customers who opt for the high-end package.
Clearwire
Clearwire provides wireless Internet access to customers all over Manhattan. Its coverage maps indicate a high density of transmission points, a necessity given the amount of steel and concrete interfering with wireless signals. Still, your exact address may or may not be capable of receiving Clearwire service. Customers who do receive a strong signal can subscribe to home or on-the-go service, or both. Download speeds of 1 Mbps allow for casual browsing and emails, but not extreme uses like online gaming and movies.
Photo Credits
Jupiterimages/Photos.com/Getty Images