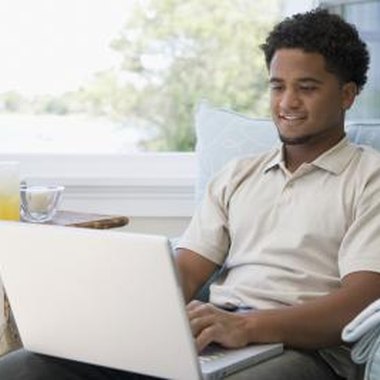 Greenwood, Indiana lies just south of Indianapolis along Interstate 65. Since it is in such close proximity to a major metropolitan area, you have a great number of options to get connected to the Internet. If you already have housing in Greenwood and are looking to add Internet services, the companies that provide your telephone or cable television will often add an Internet connection to your existing services at a discounted rate.
Step

1
Consider how you want to use the Internet and how much you can pay for the service. If you simply want the cheapest connection possible, a dial-up plan offered by providers such as ArcZip, MFire, Juno or NetZero will be easy on your budget. The disadvantages of dial-up are that it ties up your phone lines when you are using it, an incoming call can cause you to disconnect from the Internet and the speed is too slow to easily download video, music or large data files.
Step

2
Check with your cable or satellite television provider. In Greenwood, Comcast handles cable. If you already are a subscriber to either cable or satellite television, you may be able to add high-speed Internet to your existing package for about the same as you would pay for many dial-up services. With high-speed Internet you will not have to worry about tying up your phone lines and can easily download music, videos and large data files much faster than with any dial-up plan.
Step

3
Call the provider of your home phone service. Home phone service providers usually offer high-speed Internet packages through a digital subscriber line or DSL. DSL systems use existing phone lines without affecting or tying up land-line service. The speed of DSL is similar to that of cable. You may be able to take advantage of discounts by bundling your Internet service with your home telephone service.
Step

4
Compare the options and services you have checked on. Select the one that meets your needs and also fits into an acceptable budget range.
Tips & Warnings
If you have never had Internet before, price is not the only consideration. If you get a simple dial-up connection and then decide you want to download music and videos, you will have to upgrade your connection. If you travel with a laptop computer frequently, you might consider a mobile broadband card, which will allow you to connect through a cellular tower any place you have a strong signal. All the largest cellular telephone providers offer mobile broadband cards.

Internet providers often offer low introductory rates that run from three months to a year, then rise to the standard rate. Make sure you understand any difference between the initial and the standard rate, how long the introductory rate runs and how long you are committed to the provider before you sign the agreement.
Photo Credits
Jack Hollingsworth/Photodisc/Getty Images