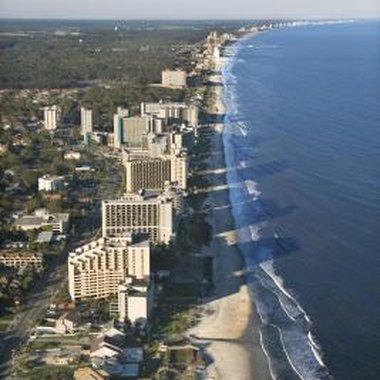 Myrtle Beach stakes a claim as one of the Southeast's prime vacation destinations. While the summer months may see a huge influx of tourists, thousands of people actually call Myrtle Beach home. Residents and visitors alike often need Internet service for work or pleasure. A variety of reputable Internet service providers are eager to do business with you in Myrtle Beach.
Comcast
Comcast Communications provides high-speed cable Internet service to Myrtle Beach residents. Customers can bundle television and Internet products and save money on their monthly bills. Comcast advertises speeds up to 15 Mbps. At those speeds, you can play online games, download large files, watch streaming movies or manage a home network. Comcast also offers a customizable Internet portal, multiple email addresses and a free security suite.
Time Warner
Time Warner provides cable Internet access called Road Runner. Four levels of speed gives consumers the option of choosing the right package to suit their needs. Road Runner Lite offers speeds of 768 Kbps, comparable to standard DSL. The fastest Road Runner package comes in at 10 Mbps, fast enough for most activities. Time Warner also offers a free security suite and a parental controls toolkit so that children's Internet usage can be monitored.
AT&T;
AT&T; still offers dial-up Internet for a flat fee. For customers needing more speed and features, AT&T; FastAccess DSL has numerous options. New customers can receive a free wireless modem. FastAccess Service offers four levels of speed, with the maximum being 6 Mbps. Customers also have the advantage of browsing for free at any AT&T; Wi-Fi hotspot in the nation. McAfee Internet security software is available for a nominal monthly fee.
Charter
Charter Communications sells cable Internet service that boasts a top speed of 60 Mbps. Customers can select from a total of five service packages. For sports enthusiasts, ESPN3 is included with all Charter Internet packages. PowerBoost technology allows for temporary speed increases when downloading files. Charter offers free online backup, free security software and unlimited online storage. Customers can bundle multiple services from Charter and potentially save money on their bill.
DSL Extreme
High-speed Internet from DSL Extreme is available in four packages. Every package requires a one year service contract. Unlike cable Internet, DSL can be self-installed with a modem kit sent through the mail. DSL Extreme provides 24/7 technical support and anti-virus and firewall software. The fastest package offers speeds of 6 Mbps, more than enough speed to play games, watch movies and download files. The Basic package clocks in at 768 Kbps, 10 times the speed of dial-up.
Resources
Photo Credits
Thinkstock/Comstock/Getty Images