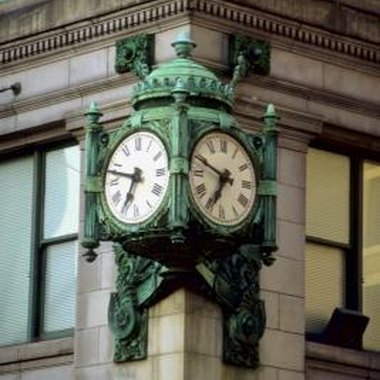 The Land of Lincoln, home of the 16th president, has an abundance of history to see as you travel. Sightseeing in Illinois includes choices of downtown Chicago, the suburbs and the countryside. With plenty of unusual and interesting locations, Illinois has something for everyone, no matter where you stay.
City of Chicago
Chicago features many attractions for sightseers, including the Navy Pier (navypier.com) and Willis Tower, also known as The Sears Tower (theskydeck.com). Well-known museums are plentiful, and include the hands-on Museum of Science and Industry (msichicago.org) and The Field Museum (fieldmuseum.org). Hundreds of lesser-known museums are downtown. Take a sightseeing cruise on Lake Michigan, or sign up for a walking tour of the city, to get interesting perspectives.
Suburbs
Chicago's suburbs contain many kid-friendly adventures, as well as historical sites. Pioneer-era historical reproductions include Cantigny (cantigny.org) and Blackberry Farms Pioneer Village (foxvalleyparkdistrict.org). The suburbs also contain botanical gardens, forest preserves and arboretums to explore nature without leaving the hustle and bustle of Chicagoland.
Outlying Areas
Outside even the furthest suburbs of the Chicago area, Illinois offers interesting adventures. Multiple national parks offer camping and hiking. In Springfield, the state capital, is Lincoln's tomb (state.il.us). Visiting Amish communities makes an educational visit, with a stop at Lewis and Clark State Historic Site (campdubois.com) to complete the day.
Unusual Locations
Illinois contains numerous unusual sights to see during your visit. The first McDonald's (aboutmcdonalds.com) in Des Plaines houses a museum with a replica of the restaurant when it was built in the 1950s. The site of the St. Valentine's Day Massacre in Chicago is where Al Capone's gang shot down the Bugs Moran gang in 1929. A drive down historic Route 66 provides a path to many of Chicago's many unusual locations. Choosing just one is the hard part.
Photo Credits
NA/AbleStock.com/Getty Images