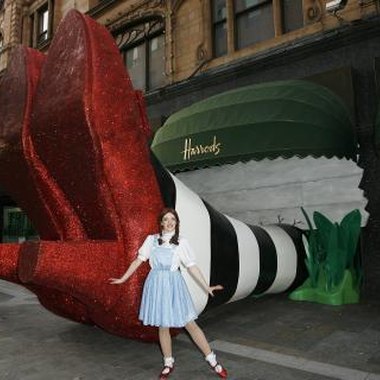 "The Wizard of Oz" is one of the best-known, most beloved films of all time. It is one of the few movies that remains popular year after year, generation after generation. However, many aspects of this classic film are unknown to most viewers, from its cast to its production and its box office reception.
The Cast
While Judy Garland is now a legendary screen idol, before the production of "The Wizard of Oz" she was only a moderately well-known young actress. MGM seriously considered the established child star Shirley Temple for the part. Additionally, comedian Ray Bolger was originally cast as the Tin Man with dancer Buddy Ebsen (later Jed in "The Beverly Hillbillies") as the Scarecrow. Bolger persuaded Ebsen to switch parts, after which Ebsen became ill from the silver Tin Man paint in early shooting. Famed comic W.C. Fields was the original choice for the Wizard, but Fields and MGM could not agree on a fee.
The Directors
Unusual even for the studio factory process of its time, "The Wizard of Oz" had six directors in total, though only Victor Fleming would be credited. Norman Taurog shot only early test footage, while his replacement Richard Thorpe shot Dorothy's first meeting with the Scarecrow. Most, but not all, of Thorpe's footage would be re-shot. Ace director George Cukor was then brought in, and he adjusted many of the major roles, including making Dorothy less of a made-up doll like Temple would have been and more of a believable farm girl. Cukor left to work on "Gone With the Wind" and Victor Fleming took over for the bulk of the rest of production. Finally, King Vidor replaced Fleming and directed most of the Kansas sequences.
The Music
A great deal of music was composed and recorded for the film, only to end up on the cutting room floor. Originally "The Wizard of Oz"" was imagined by MGM as a hipper, more jazz-oriented film than the delightful fantasy into which it evolved. One major song, "The Jitterbug," gave each of the main characters an elaborate dance but was eliminated to save running time. The classic song "Over the Rainbow" was almost cut for the same reason, but was kept on the advice of famous lyricist Ira Gershwin.
The Reception
"The Wizard of Oz" was not a break-out hit in its first release, though it performed respectably. It was only with passing decades, as MGM discovered the film could be re-released to new generations of children, that it became a major box office success. With the invention of television, "The Wizard of Oz" became a perennial favorite, shown during the Christmas season until the mid-1960s. The film has become one of the best selling home video titles on VHS, DVD and Blu-ray.
References
"The Wizard of Oz"; Metro-Goldwyn-Mayer; 1939
"The Wonderful Wizard of Oz: The Making of a Movie Classic"; Turner Entertainment; 1990
Photo Credits
Neil Mockford/Getty Images Entertainment/Getty Images