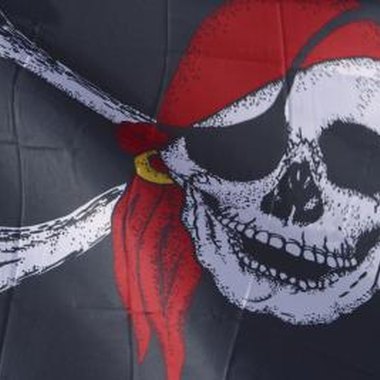 Much like spirit weeks and proms, homecomings held at schools across the United States are generally themed events. When deciding on which theme to choose for your school's homecoming, take into consideration where you live and the interests of your students. For example, a high school located in the Midwest nowhere near a beach may be more interested in a beach-themed homecoming than a school located near a real beach. Homecoming is a good chance for students to stretch their imaginations to a different time or location.
Alice in Wonderland
Lewis Carroll's novel "Alice in Wonderland" has many elements that can be incorporated into an interesting homecoming theme. To use the Alice in Wonderland theme, decorate hallways and quads with oversized papier-mache clocks, red roses, colorful mushrooms, white rabbits and vials with "potions" and attached tags that say "Drink Me!" Pass out top hats to students who come to school dressed as "Mad Hatters." Scatter decks of cards throughout hallways and in public places such as the cafeteria. Sell red heart-shaped and black spade-shaped cookies during homecoming festivities. If your school takes part in a homecoming parade, decorate a float as a giant purple Cheshire cat.
1980s
The 1980s were a decade of bold fashions, neon colors and upbeat pop music. To throw a 1980s homecoming, encourage students to come dressed in '80s wear, such as legwarmers, neon bangles and scrunchies, Members Only jackets, acid- washed denim and neon-rimmed sunglasses. Hold a costume contest during lunch period in which competitors must dress as famous characters from popular '80s movies. Decorate hallways with spatters of removable neon paint and posters with '80s catch phrases such as "That's Gnarly" and "Totally Tubular." Play popular '80s music during lunch, assemblies and halftime at the homecoming football game.
Pirates
For a swashbuckling good time, choose a pirate theme for your school's homecoming. Decorate halls, the gymnasium and cafeteria with nautical rope, posters with skulls and crossbones, papier-mache seagulls and palm trees, fake seaweed and pieces of driftwood. Create a homecoming float in the shape of an old wooden ship that can carry homecoming king and queen nominees. Hold a costume contest at the homecoming dance for "Best Pirate," and hold special movie screenings after school showing such movies as "Hook" and "Pirates of the Caribbean."
Under the Sea
An "Under the Sea" theme can be incorporated into a homecoming celebration in any number of ways. Hang blue and green paper streamers from trees in the quad and in front of the school to give the illusion of waves or jellyfish tentacles. Make fake jellyfish out of construction paper and streamers and hang these creations from hallway ceilings. Decorate hallway walls with reflective blue paper, and cut out paper fish and sea creatures to paste on the paper throughout the halls. Hold an "Under the Sea" homecoming dance, and create an ocean backdrop for photos.
Photo Credits
Hemera Technologies/AbleStock.com/Getty Images