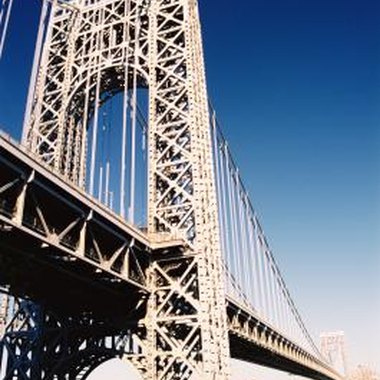 The George Washington Bridge connects a section of New York City known as Washington Heights with Fort Lee, New Jersey. At the time of its construction, it was the longest suspension bridge in the world, double the length of most bridges. It was also built with enough size and strength to accommodate eventual expansion.
Beginnings
A bridge connecting Washington Heights, New York City and Fort Lee, New Jersey was proposed by the governors of New York and New Jersey as early as 1906, and an Interstate Bridge Commission was formed to take on the project. The bridge connecting the two areas was to be built and jointly funded by the two states. In 1910, the Interstate Bridge Commission recommended the Fort Lee location. It took four years to build the George Washington Bridge, which officially opened on October 25, 1931.
Dimensions
The George Washington Bridge is 4,760 feet long. 600-foot-tall steel towers and a new cable spinning process were used in the bridge's construction. The lower deck uses a pair of three-foot-diameter cables on the bridge deck to support its weight. These cables combine 26,424 wires, each of which is thinner than a pencil. Originally, the steel work of the towers was to be covered in concrete and granite panels, but because the bridge was so striking, bridge authority officials decided not to cover it up. This act saved them money and allowed the bridge to open eight months earlier than expected.
History
In the George Washington Bridge's first year, five million drivers crossed it. Fifteen years later, in 1946, two lanes were added by paving the center of the bridge. In 1958, the bridge's capacity was slated to be increased by 75 percent via a six-lane lower level. This lower level was opened to traffic four years later, on August 29, 1962. In 2011, the George Washington Bridge is the busiest bridge in the world, accommodating over 100 million vehicles each year.
Opposition
There was a fair amount of opposition to the location of the bridge. Gustav Lindenthal, one of the great bridge builders of the day, wanted the bridge to be built from midtown Manhattan, and he wanted to connect existing rail lines in both states. However, Othmar Ammann, another famous bridge builder, pushed for the original site near 179th street. This site was positioned high enough so that tall ships could pass under the bridge easily. It was also on a narrow outcropping of land, making construction easier, and it was away from the congestion of midtown, so it was easier to sell politically.
Photo Credits
Jupiterimages/Photos.com/Getty Images