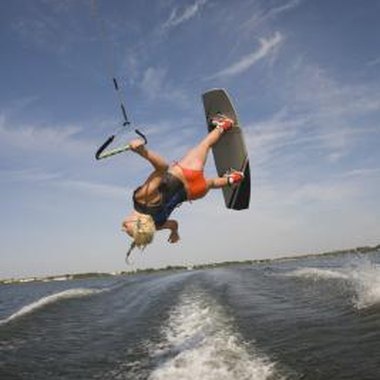 Monkey Bar wakeboard towers offer an easy, quick and secure way to provide a raised attachment for wakeboard riding from your motorboat. Unlike some towers that are permanently mounted onto the hull of your craft, Monkey Bar towers fold out of the way when you aren't using them, but are just as secure and safe to use as are non-folding towers. Installing a Monkey Bar tower on your boat takes just a short time, and you can accomplish this task using only basic hand tools.
Items you will need
3/8-inch drive socket set

Drill and drill bits

Pencil
Step

1
Separate the parts of the Monkey Bar wakeboard tower from the packaging. There are two mounting plates that fit on the gunwale of the boat, the tubes for the bar and the rope support that attaches to the bow of the boat.
Step

2
Mark on the gunwale of the boat using a pencil where you would like to install the mounting plates. The recommended place is just behind the boat's windshield on the starboard and port sides of the boat. Mark each of the holes that you will need to drill.
Step

3
Drill the holes for the installation of the mounting plates on both the starboard and port side gunwales of the boat.
Step

4
Place the top side of the mounting plate over the holes you drilled, and then reach up underneath the gunwale to place the bottom side of the mounting plate into position. Run the bolts into the mounting plate and secure them with the ratchet and the supplied nuts.
Step

5
Assemble the Monkey Bar tower itself using the included hardware in the kit, by first connecting the vertical bars to the mounting plates so that they rest on the gunwale. Insert the included hitch pin into the fitting between the mounting plate and the bars. Next, set the width of the tower by extending the horizontal bar until it can be connected to the two vertical uprights and then locking it in place with the included pins.
Step

6
Attach the rope lanyard to the Monkey Bar, and then raise the bar so that it is positioned at 90 degrees up and down. The rubber end of the lanyard is wrapped around the bow of the boat when the Monkey Bar is raised to support the weight of the wakeboarder. Avoid overtightening the ratchet on the rope to prevent damage to the boat's gunwale.
Tips & Warnings
Install the Monkey Bar so that when it is folded, it will lay across the transom rather than in the center of the passenger compartment of the boat.
References
"Water Skiing and Wakeboarding"; Ben Favret; 2010
Photo Credits
Jupiterimages/Comstock/Getty Images