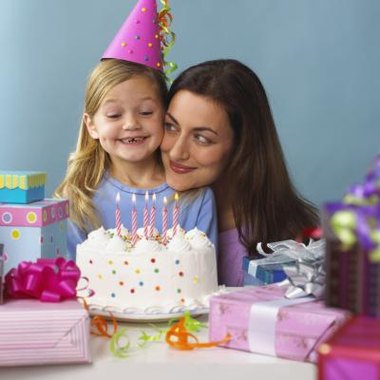 A Little Mermaid party theme lends itself perfectly to a pool party or backyard splash party. However, if an outdoor party isn't in the cards for your little one, you can still plan a fun Little Mermaid party indoors. With some creative decorating and some mermaid themed games and activities, your guests will have lots of fun at your celebration "under the sea."
Decorations
Choose colors in shades of green, blue, aqua and silver for your balloons, streamers, napkins, plates and tablecloths to create an ocean feel. Hang Mylar balloons in the shape of fish and dolphins from the ceiling. Scatter seashells on tables and counter tops. If your child has stuffed sea animals, put them around the room too. Hang a large piece of paper on one wall and tape pictures of Ariel, Flounder, Sebastian and other characters from "The Little Mermaid" on it.
Food
Ocean-themed food is a another way to set the scene for your Little Mermaid celebration. Serve goldfish crackers, tuna salad and shell-shaped pasta with butter at your party. Make sandwiches and cut them into fish or shell shapes. Give each child her own edible fishbowl. Prepare blue gelatin and pour it into clear plastic cups. When it has almost set, add a few gummy fish to the thickened gelatin.
Games
There are lots of fun mermaid themed games that you can play indoors. Hang a poster of Ariel on the wall to play Pin the Flower on Ariel. Give each a paper flower with double-sided tape on the back and when its his turn blindfold him, spin him around and have him try to put the flower in Ariel's hair. Play music from the "The Little Mermaid" soundtrack and have the children dance to it. Then stop the music and have everyone freeze. Anyone who is still moving is out of the game. You can let them back in the game the next time the music stops or have them be out until the game is over and play until only one child is left. Have a treasure hunt. Hide a variety of objects related to The Little Mermaid, like shells and plastic fish, around the room. Let the children hunt for them. For older children you can even make treasure maps with clues that will lead them to the treasure.
Crafts and Activities
When the children arrive, provide paper crowns for them to decorate with stickers, markers and adhesive jewels. Purchase beads in the shapes of shells or sea creatures and let the children use them to make necklaces and bracelets. Set up a table with crayons and Little Mermaid coloring pages for the children to color if they have extra time.
Photo Credits
Brand X Pictures/Brand X Pictures/Getty Images