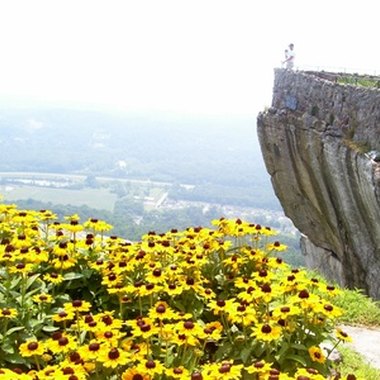 Chattanooga, site of Civil War battlefields, a world-class aquarium and an abundance of natural wonders like Ruby Falls and Rock City, hosts a handful of out-of-the-ordinary accommodations. Whether these inns and hotels in Chattanooga focus on elegance or on fun, they provide an alternative to cookie-cutter chain hotels.
StoneFort Inn
"Interesting architecture and exquisite taste set the StoneFort Inn apart," said Southern Living Magazine in December of 2004. Housed in a hotel built circa 1909, the Inn has 16 individually decorated rooms with top-of-the-line bedding and linens and four sitting rooms. Many of the rooms have gas fireplaces and balconies with city views. Café Elite, open to guests only, serves a gourmet breakfast buffet daily. The adults-only StoneFort Inn is located downtown, within walking distance of the Tennessee Aquarium and the University of Tennessee.
Delta Queen Hotel
The Delta Queen, moored just across the Tennessee River from downtown Chattanooga, is the oldest completely operational passenger steamboat remaining in the U.S. Now permanently docked and listed on the National Register of Historic Landmarks, the boat has 88 staterooms ranging in size from small two-bunk cabins to larger bedrooms. The Texas Lounge features live music and breakfast. Lunch and dinner are served in the Orleans Room, and the library is open for games and conversation. Overnight packages on the Delta Queen include accommodations for two, deluxe breakfast, a picnic basket, lunch passes and a cruise on the Southern Belle.
Mayor's Mansion Inn
Mayor's Mansion Inn, located in the Fort Wood Historic District, is Chattanooga's only AAA Four Diamond inn. The three-story home, built at the end of the 19th century by a wealthy developer who became the city's mayor in 1897, has 14 gables and 13,000 square feet of living space. Five elegantly decorated rooms and six suites have private baths and city views. A three-course breakfast is served daily in the mansion's expansive dining room, and with prior notice the innkeepers will provide dinner for six. The Inn's romance package includes champagne, roses, sweets and in-suite massage.
Chattanooga Choo Choo
The Chattanooga Choo Choo, perhaps Chattanooga's most famous accommodation, is a member of Historic Hotels of America. The hotel offers standard rooms and suites, located in the renovated train station and two other buildings on the property, and rooms in authentic Victorian train cars. Refurbished cars have queen-sized beds and private baths. The hotel is part of a complex of shops and restaurants including a dining hall under the station's huge dome. A trolley car runs the length of the property. Chattanooga Choo Choo provides guests with high-speed Internet access in every room, including the train cars.
Photo Credits
view from lookout mountain image by Seiberspace from Fotolia.com